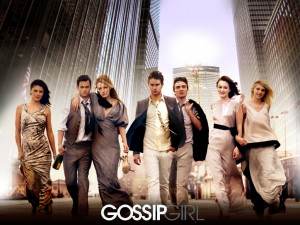 As it turns out, we won't be getting any new episodes of Gossip Girl until Monday, March 8, but spoilers about what's in store for the Upper East Siders is already trickling in.
First up: Chuck. When we last saw him, it looked like Chuck had found his long-dead mother. Well, he thought she was dead. A promo for the new episodes in 2010 show that Chuck will try to figure out whether the woman he saw is the old Mrs. Bass.
E!Online's Kristen, meanwhile, has some information about what's in store for Jenny. Somehow, in between her scheming, she's going to find time to come between another Gossip Girl couple. Who? Chuck and Blair, perhaps? Nope. Serena and Nate, actually. No details yet on how or why Jenny manages to come between them. Could she be jealous of their relationship? Will she just try to get Nate to up her status?
In some more Jenny-related news, Kristen reveals that Agnes Andrews (played by Willa Holland) will reappear on the show. You'll recall that she was Jenny's crazy model friend. Will she egg Jenny on in coming between Nate and Serena? Whatever the reason for her return, you just know she'll cause trouble.
E!Online also reveals that we should expect to see Serena's father before the end of the season. The show is currently casting his character.