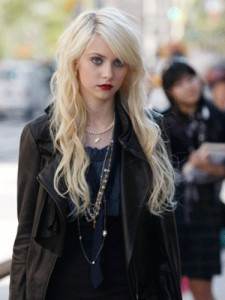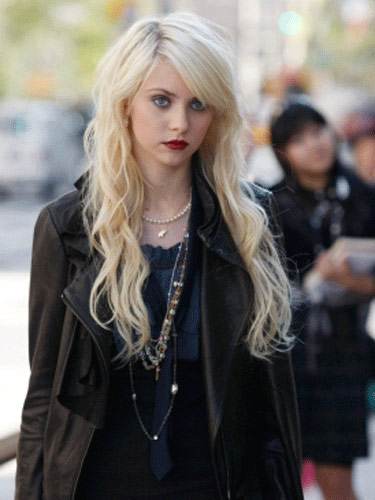 If you've been watching Gossip Girl this season you might notice the fact that Jenny Humphrey (played by Taylor Momsen) has only appeared in three episodes. Some people who don't like Jenny's character might not be lamenting that fact, but her fans should be worried that Taylor will continue to be MIA as the season progresses.
According to Deadline, Momsen will be on hiatus after the November 29 episode. Jenny won't be appearing in at least four episodes beginning with the mid-season finale of Gossip Girl, airing on December 6.
Some speculate that the reason for sidelining Momsen are her off-screen antics, while others say it simply works with the direction of the show:
Besides her barely-there wardrobe and expletive-laced tirades against peers such as Miley Cyrus, Momsen pissed off Project Runway's Tim Gunn who played mentor to 'Jenny" in an episode that aired last month. Gunn blasted Momsen for her lack of professionalism on the set. "What a diva," he told E! News. "She was pathetic, she couldn't remember her lines, and she didn't even have that many. I thought to myself, 'Why are we being held hostage by this brat?'"

However, a Gossip insider maintains that the airtime for Momsen, an original cast member who has been on the show since the pilot, has been reduced for strictly creative reasons.
As for Chuck and Blair…their new "relationship" isn't the most stable. Jessica Szohr (Vanessa) told E!Online that a new girl will be coming to Manhattan and will become involved with Chuck:
"We have another guest star coming on, which is amazing," she says. "She starts to date Chuck Bass, which is exciting because everyone always wants Chuck and Blair together. This someone throws a little loop in their relationship–or throws everyone, actually."
Also, those of you who are loving Kate Cassidy's stint on the show might have to be prepared to let her go. E!Online shares that while she's signed on for 11 episodes, there are no plans to make her a regular at this time.