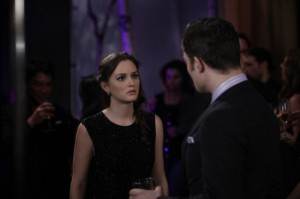 Gossip Girl fans who ship Chuck and Blair may have something to look forward to as season 5 comes to a close. We know in the upcoming April 30 episode that Dan gets offered a prestigious internship abroad for the summer and we're wondering whether that could impact his budding relationship with Blair.
Now The CW has released spoilers for the season finale of Gossip Girl, titled "Return of the Ring". Blair will be targeted by Gossip Girl herself, far worse than she's ever been targeted before, and Serena has to admit that she may have played a role in Blair's current situation. But Blair's relationship troubles also heat up. The network says that "Blair will make a choice between the two men in her life…will it be Chuck or will it be Dan?" Place your bets on which boy Blair will choose.
Lily is also torn…not between two men, but she has to decide the future of her marriage in this episode. Nate, meanwhile, grows closer to Lola and invites her to move in with him.
The season finale of Gossip Girl airs on May 14 at 8:00 p.m. ET/PT on The CW.
For all of our coverage of the show, including spoilers, sneak peeks, the latest episodes from Hulu, and more, browse and bookmark our Gossip Girl page.