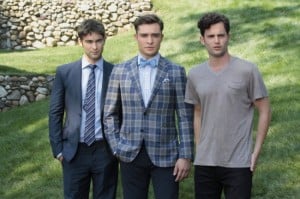 The final season of Gossip Girl is almost upon us and, for all of its silly storylines over the years, I can't help but feel nostalgic.
The CW has released an official synopsis for the final season premiere, titled "Gone Maybe Gone" (view photos for the premiere): "THE SUMMER IS OVER AND SERENA HAS GONE MISSING / BARRY WATSON ("7th HEAVEN") AND ANDREA GABRIEL ("LOST") GUEST STAR — After a brief encounter abroad, Chuck (Ed Westwick) and Blair (Leighton Meester) make a promise to each other about their relationship, which leaves them once again apart. Dan (Penn Badgley), with some help from an unlikely ally, Georgina (guest star Michelle Trachtenberg), is writing a scathing tell-all book that can only mean trouble. As the sole head of The Spectator, Nate (Chace Crawford) is making his own decisions and is ready to go up against Gossip Girl. As word spreads that Serena (Blake Lively) is missing, the gang bands together to find her and are shocked by what they find. Robert John Burke and Sofia Black-D'Elia ("Skins") guest star. Mark Piznarski directed the episode written by Stephanie Savage and Josh Schwartz (#601)."
Don't miss the season premiere of Gossip Girl on on Monday, October 8 at 9:00 p.m. ET/PT on The CW.  Watch a preview for the new season here.