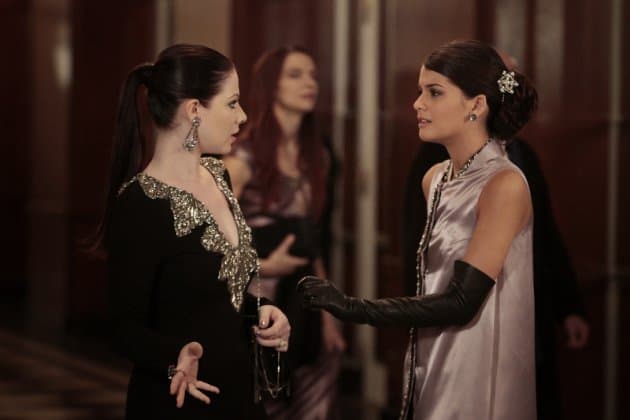 The last time we were at Cotillion on Gossip Girl was back in season 3 with Jenny Humphrey (Taylor Momsen) facing humiliation and Nate (Chace Crawford) saving the day. Tonight it is that time again and it is Sage's (Sofia Black-D'Elia) big night. Blair (Leighton Meester) hopes that she will be able to restore the reputation of Waldorf Designs by making a splash at this event, but Sage wants Blair's expert skills for another matter.
We are now at the half way point of the final season of Gossip Girl and so far it has been patchy at best. One issue is the Blair and Chuck (Ed Westwick) separate missions, with Chuck's investigation into his father's business activities being the least compelling of the pair. Now we know the specifics of Bart's (Robert John Burke) illegal deals with oil, hopefully this story can wrap up. One aspect that has been used to good effect is Chuck's close bond with Lilly (Kelly Rutherford) and last week Bart asked Lily to choose between him and his son – surely there's no contest? Tonight Chuck finds an unlikely ally as he attempts to drive a wedge between Bart and Lily.
The Blair problem this season revolves around her childish schemes that even high school Blair would scoff at. It probably doesn't help that at the start of the season we were told that there would be a focus on Blair and Serena's (Blake Lively) friendship and they have barely interacted this year so far. Hopefully they are using this to build up to something in the second half of the season, but all of Serena's storylines so far have revolved around Steven (Barry Watson). Tonight will see Serena becoming concerned about Steven's attitude towards her, but there might be a surprising declaration coming her way. This is where Blair comes in as Sage wants Blair to sabotage Serena, as Blair is well versed in this area.
In the past few episodes Dan (Penn Badgley) has displayed some super jerky behavior, some of it at the behest of Georgina (Michelle Trachtenberg) and some of his own volition. Another one of Dan's articles is published tonight, but it has the opposite effect of what he was hoping for; who is the target this week? The last episode ended with Dan continuing his tour of friends couches as he asked Blair to stay with her (as just friends) and Blair agreed. From the promo it looks like we can expect some fun stuff between the two, though romance doesn't appear to be part of the equation.
How are you feeling about season 6 so far? Let us know your thoughts in the comments.
Watch a promo video for tonight's episode "Monstrous Ball" below and for promo photos head here. Remember to keep an eye on our Gossip Girl page for all of our previews, sneak peeks and spoilers for the final season.
http://www.youtube.com/watch?v=oRIgnHLK-9Y&version=3&hl=en_GB