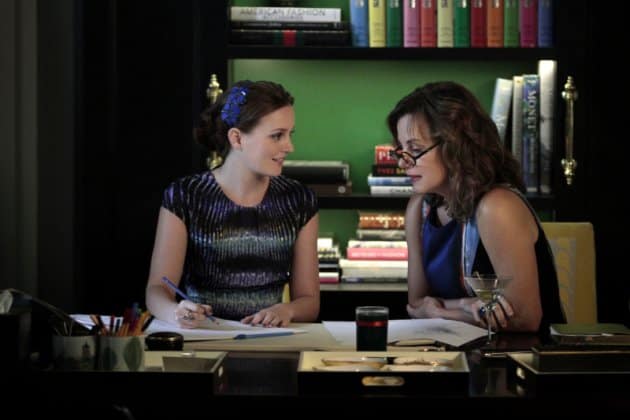 There are only five episodes left of Gossip Girl and it looks like certain couples will be reunited by the end of the season. One is the obvious Chuck (Ed Westwick) and Blair (Leighton Meester) who are practically back together at this point, despite what they say about completing their own personal missions. The other is a bit more of a surprise and while the Gossip Girl marketing department suggest that it is something the audience wants, I'm not entirely sure that is the case.
Last week's cotillion based episode ended with the Serena (Blake Lively) and Dan's (Penn Badgley) sex tape getting a very public airing, as part of a scheme by Sage (Sofia Black-D'Elia) to get her father to break it off with Serena. This plan worked, but it also ended with Sage getting dumped by Nate (Chace Crawford) as he finally realized that he was dating an awful person, who also happened to be in high school still. In ridiculous comparison news Blair compared Dan and Serena's indiscretion with Chuck sleeping with Jenny (Taylor Momsen) and then declared that Dan's actions were in fact worse. This might be the point where I blacked out with rage as the two moments really don't seem to be in the same league. I understand that the writers want to have a Chuck/Blair ending, but do they really need to destroy Dan and Blair's friendship in the process?
One issue I raised before last week's episode was the lack of Blair and Serena interactions this season and the two former BFFs almost became friends again, that was before the sex tape screening and Blair decided that they are better off without each other. What will bring these two former friends back together?
All of these characters have been awful to each other at least once (most likely a lot more) and yet they always find a way to forgive each other  — until the next time of course — so we shouldn't really be surprised that the episode ended with Dan and Serena finding comfort in each other's company. Does this mean that they should end up as a couple? That's what is being hinted at as Serena volunteers to help Dan find a new place to live as he has run out of couches to crash on. This brings up some unexpected emotions and as Lily (Kelly Rutherford) and Rufus (Matthew Settle) are no longer married this means that something could happen between them. Do you want to see Serena and Dan back together?
Meanwhile, Blair has to face her mother, as Eleanor (Margaret Colin) is less than thrilled with the direction that Blair has taken Waldorf Designs in. The cotillion incident has led to buyers for Blair's collection but at what cost? Eleanor believes that Blair's split personality is to blame and that Blair needs to rid herself of her dark, scheming and sexually deviant side, but is this something that Blair will be able to do?
Chuck is also still facing parental issues and has found a useful friend in Ivy (Kaylee DeFer) and she discovers some incriminating evidence against Bart (Robert John Burke). Chuck needs Nate's help to implement his plan; will this involve The Spectator?
What's less interesting than the crimes of Bart Bass? How about Rufus and Ivy's gallery opening? It turns out that no-one is that bothered by this event and their RSVP list for the opening is currently empty; they must scramble to rectify this.
Watch a sneak peek of "Where the Vile Things Are" and for more promo photos and a promo video from this new Gossip Girl episode head here.
http://www.youtube.com/watch?v=XDPCVX3O794&version=3&hl=en_GB