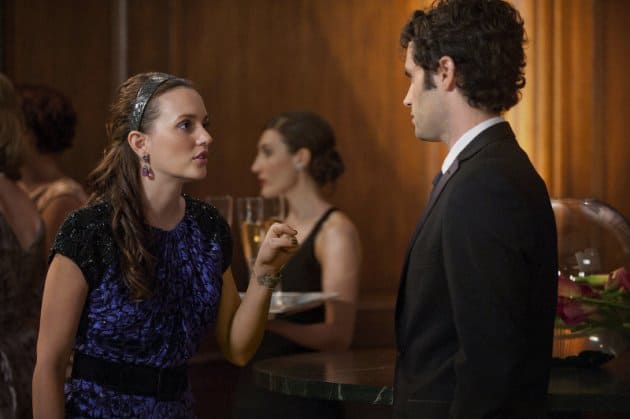 Tonight is the penultimate episode of Gossip Girl, or as they suggest in the producer's preview below "it's really the first part of the finale." Chuck's (Ed Westwick) mission to destroy his father and reveal the truth took another turn last week as he finally convinced Lily (Kelly Rutherford) that Bart (Robert John Burke) had indeed done some very bad things.
Dan (Penn Badgley) alienated himself once again by printing the not so pleasant Serena (Blake Lively) chapter, earning himself a punch from Nate (Chace Crawford) and praise from Georgina (Michelle Trachtenberg). Will Dan's master plan be revealed tonight?
The focus of tonight's episode is on Bart Bass as after Blair (Leighton Meester) has a run-in with him she is concerned that he is becoming increasingly paranoid and that Chuck is in danger. Chuck believes that his father will never hurt him and so he makes a deal that could change his life; could this be the disastrous plane trip that is hinted at in this promo? While other people have been helping Chuck with his Bart plan, including Blair, Ivy (Kaylee DeFer) and even Dan, it will be a much bigger group effort tonight as Serena, Georgina and Sage (Sofia Black-D'Elia) enlist. What scheme have they concocted?
One potential problem is Nate as Bart has information that could send Nate to prison, if Nate refuses to help. This has already put Nate in a moral quandary, but it could also be something that they could spin to their advantage too. Nate has reunited with Sage and unfortunately this is one storyline that I'm less than bothered by.
So what will Dan's role be in all of this? Bart gave him his card after the Serena chapter was released and so Dan could turn full villain and help Bart. Alternatively Dan could use this to become the hero of his book and as part of the "Final Chapter." Dan told Rufus (Matthew Settle) that he had a plan all along and as Bart has been fake dead for some time, it feels like this plan is about something else. It could be as simple as taking down the group who made him Lonely Boy and getting to feel superior to them in the end or, and this is a more outlandish theory, but has Dan been Gossip Girl all along?
Watch the producer's preview for "The Revengers" below. For a look at a promo video and photos head here and here.
http://www.youtube.com/watch?v=dxGv3HXZUnw