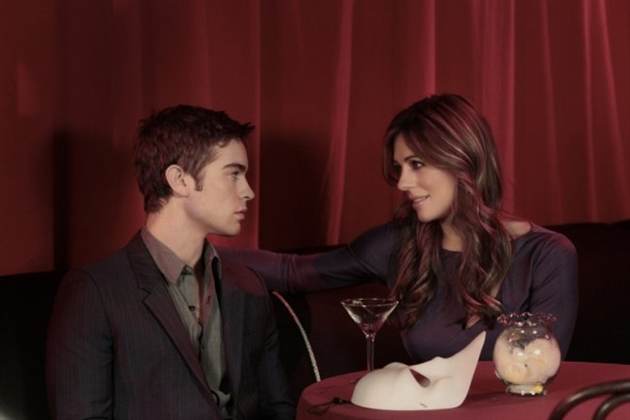 A lot of Gossip Girl characters had problems to overcome in this week's episode. First up was Lily, who wanted to get her mother's estate back from Ivy. Her first plan involved finding something in Ivy's past to get her disinherited, but that didn't work out very well. So William went to visit Ivy and offered his assistance: he would get her a place in New York society for a piece of the inheritance. Serena, unfortunately, blew the plan with a Gossip Girl blast, so Ivy didn't go through with the 'bribe', but Lola stepped up and admitted that she had witnessed Ivy's promise to pay William, so Lily has her niece in her corner now.
Blair and Dan, meanwhile, kept getting interrupted while trying to have sex. When they were finally able to do the deed, the whole experience proved horrible. Fortunately for them, they found a way to have exciting sex: in semi-public places, like the elevator on the way up to Ivy's party.
Nate's paper, The Spectator, is experiencing serious financial difficulties and he's trying to find investors to keep it afloat. But when Serena's blunder caused him to lose an investor, he fired her. Meanwhile, Serena accepted Georgina's gift of the laptop and decided to become the new Gossip Girl. At least until the real Gossip Girl asked for the password so she could take back her blog.
Elizabeth Hurley returns as Diana Payne in the upcoming April 9 episode of Gossip Girl and engages in a power struggle with Nate over the fate of The Spectator. Serena decides to step down as the 'It Girl'and taps Lola to take her place, which involves getting her cousin a modeling gig at a Kiki de Montparnasse lingerie show.
Watch a preview below for the March 9 episode of Gossip Girl, airing at 9:00 p.m. ET/PT on The CW.