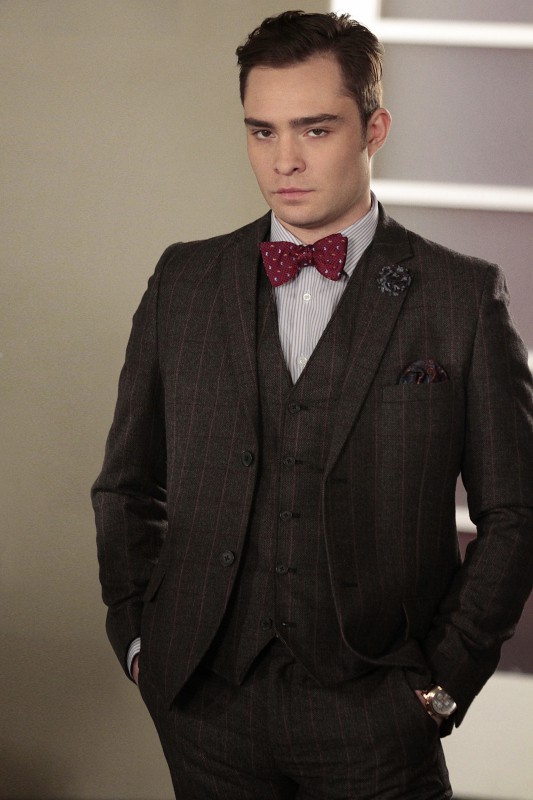 Chuck found a renewed sense of purpose in this week's episode of Gossip Girl.  After moping for most of the episode because he thought he would be unable to defeat his father, he finally managed to convince Lily that Bart might be responsible for the deaths of the men who helped him with his illegal oil deal.  Lily sped off to the airport to get away from Bart, but promised to give Chuck the information that she read in the envelope that had been hidden behind the painting.
Meanwhile, Dan (with some scheming from Georgina) released a "Serena Chapter" which portrayed her as a vacous girl constantly on the prowl for love.  This led to Dan's ousting from the Upper East Side, but he told Rufus that he had a master plan here and sat down to write his Final Chapter.
Next week brings the penultimate episode of Gossip Girl.  Blair becomes alarmed for Chuck's safety, convinced that Bart will stop at nothing to present his son from exposing him.  The trailer for the episode seems to hint that Chuck dies in a plane crash, but we have a feeling this isn't the last we've seen of the mighty Chuck Bass.
Watch a preview below and don't miss an all new episode of Gossip Girl on December 10 at 9:00 p.m. ET/PT on The CW.  You can browse through photos for the episode here.
http://youtu.be/kDC2Q9kGyAM