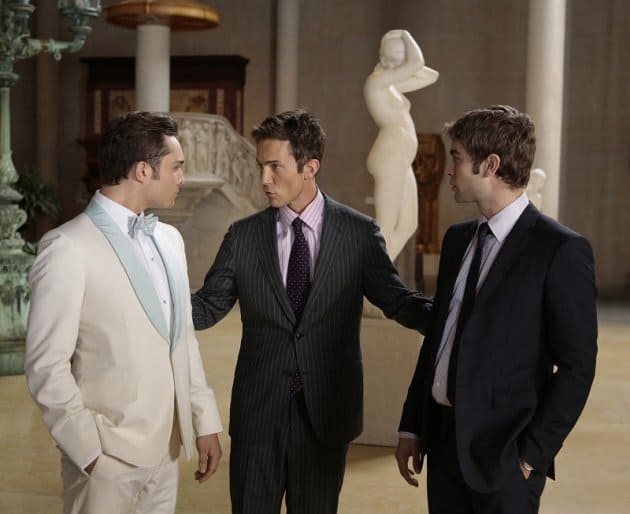 Bart tried to have Chuck killed in the penultimate episode of Gossip Girl.  Step one of the plan began with Bart getting Nate arrested for fraud, followed by threatening Blair and convincing Chuck that the only way to save his friends was to exile himself to Russia. Chuck shared a goodbye with Blair, but she was traumatized when news came out that Chuck's plane had crashed.
Fortunately, Chuck had anticipated his father's deviousness, although he was horrified by the lengths he would go to in order to win.  Blair had gathered her girl posse together (including Georgina and Ivy) and tried to rattle Bart enough to elicit a confession.  In the end, a dramatic confrontation between Chuck and Bart (with a last-minute appearance by Blair) resulted in Bart falling to his death.  Will Chuck be convicted of murder in the series finale?
Meanwhile, Sage reignited Nate's interest in exposing the identity of Gossip Girl after he lost control of The Spectator.  The series finale promises to finally remove the blogger's mask and reveal her (or his) identity once and for all.
Watch a preview below for the series finale of Gossip Girl airing on December 17.  At 8:00 p.m. ET/PT, a retrospective will air, including interviews with the cast and producers.  The final episode begins at 9:00 p.m.  You can browse through photos for the series finale here.
http://youtu.be/fOc34pOqNn0