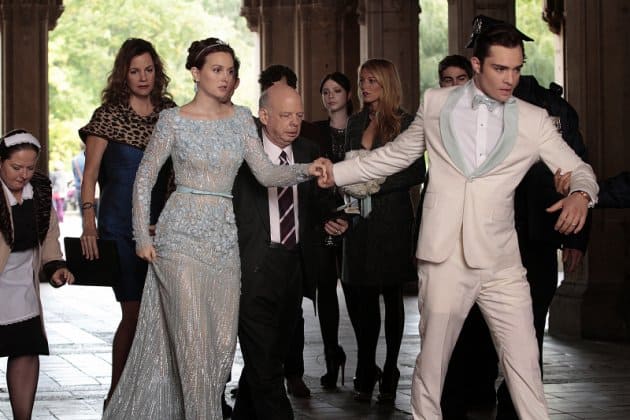 Gossip Girl is coming to an end on December 17 with a two hour episode that features an hour-long retrospective about the series.  As for the actual series finale, here's what the CW has to say: "The Series Finale begins with the stars and executive producers bidding farewell to the Upper East Side in a look back at the show's many unforgettable moments. Then, in a fashionable farewell to remember, our favorite Upper East Siders join forces for one last soiree, and the shocking identity of Gossip Girl is finally revealed."
Watch a preview for the series finale.
That doesn't tell us much, except the fact that Gossip Girl will finally, FINALLY be revealed.  But the photos for the episode are far more telling.  Here's a spoiler that's not really a spoiler: Chuck and Blair will be married!  And the episode will feature the return of several actors, including Katie Cassidy (Juliet Sharp), Connor Paolo (Eric van der Woodsen) and Taylor Momsen (Jenny Humphrey).  Even Desmond Harringston is returning as Jack Bass.  Are you happy that Chuck and Blair will finally tie the knot?  Will the show end on a happy note?
Don't miss the Gossip Girl series finale on December 17, beginning at 8:00 p.m. ET/PT on The CW.