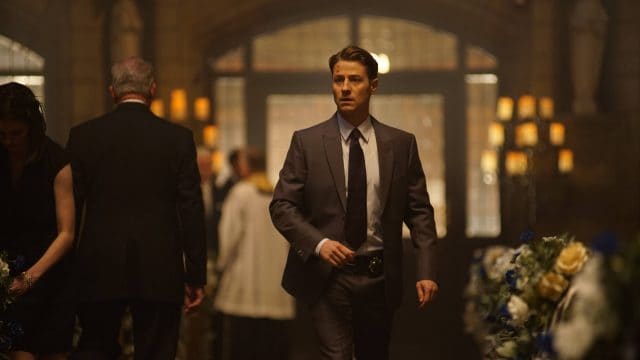 Gotham has had its ups and downs this season, but I have to admit that I do not think the fall finale could have gone any better from a fan standpoint. Certainly, it could have gone better for Jim Gordon or Oswald Cobblepot, but hey, I'll let you guys be the judge of that. Sometimes, I will get disillusioned after a few episodes that are par for the course or just under, but the fall finale hit all the right notes, even if it made me a bit uncomfortable.
This week on Gotham: With the help of Barbara Kean, Nygma discovers the true architect behind Isabella's murder. Bruce, Selina, and Alfred finalize and execute their plans to rob the Court of Owls' safe, and they attract a bit of additional help in the process. Harvey and Jim investigate a murder that leads to Mario, who masterfully architects the situation to get Lee to hate Jim. Down to the wire, Gordon turns to Falcone for help.
Whew. What a ride. So much of that episode was pulse-pounding that I thought for sure I'd have a heart attack. This episode was a doozy. I expected many of these stories to boil over, but I expected zero of them to boil over so soon. I expected Nygma's revelation about Oswald, for instance, to come at the end of the episode, but instead Barbara (who should TOTALLY take over the underworld, by the way) comes to him immediately and we get to watch him solve the crime, and all of the wheels spin and shout in his brain until he decides to end Oswald. Was it set up for the second half of the season? Perhaps, but I'm going to watch the crap out of it either way. Cory Michael Smith and Erin Richards were exceptional in bringing this plot segment to life, and their scene at the beginning was one of the best of the season for both characters.
The real gut-wrencher for me was watching Jim's story as he works desperately to bring down Mario before he hurts Lee. It's pretty clear from about the time he speaks to Tetch who "lets it slip" that Mario has the virus, but also that Mario is manipulating Jim. The story was extremely well-told and executed, even though I wanted desperately for Jim to outwit Mario and bring the truth to Lee. Of course, that's my bias showing, as even though I don't regularly practice shipping, it's clear that Jim and Lee are meant to be. But this story does not feature a happy ending at mid-season.
I've crunched the numbers, and Season 3.5 will not only feature Bruce, Alfred and Selina facing the Court of Owls' wrath, and Nygma, Babs, Butch and Tabitha taking Oswald down. No, it will also feature an angry, mistrustful Lee and a vengeful Carmine Falcone. I think the best way out of this for Jim is to be content with the fact that Lee is alive, but somehow I don't think that's how things are going to go down.
Here are a few other thoughts:
Aside from the Nygma/Babs scene at the beginning, the scenes between Gordon and Tetch and Gordon and Victor Zsaz were some of the best that Gotham has had this season.
The one real positive about Mario (spoilers) being dead is that it will likely mean we get to see more Carmine Falcone in 3.5, and I'm beside myself about it.
I don't know what the deal is with Selina's mom, but she came into the picture at the WRONG time.
Gotham did it's job to get me primed for the back half of the season with one of its best episodes of the season so far. Beware the Green-Eyed Monster does a masterful job of not only portraying the different sides of jealousy and envy, but does so in a way that fits perfectly with the story.
What did you guys think? Did you enjoy the episode? Let us know!!
Gotham returns Mondays at 8/7c this Spring on FOX.
Gotham Season 3 Episode 11 Review: "Beware the Green-Eyed Monster"
Summary
Gordon races against the clock to expose Mario as infected by the Tetch virus on this week's exceptional fall finale of Gotham.