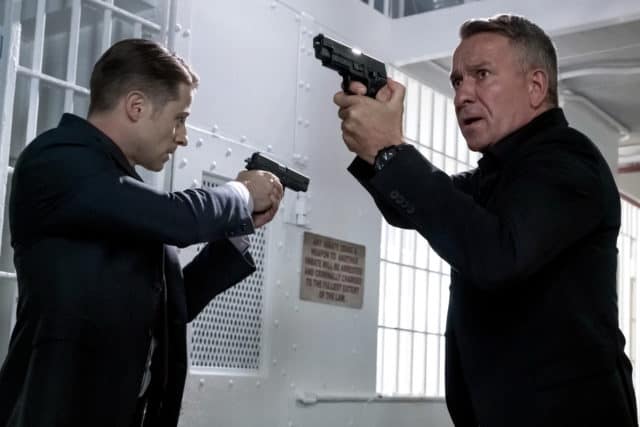 This week's episode of Gotham has finally broken free of the shackles it placed on itself by borrowing from the Dark Knight. Okay, so it really has broken free for a couple weeks now, but this episode finally felt like a separate story. Instead of retelling the Ra's Al Ghul saga (though it touched on that), this episode spent most of its allotted hour exploring different character pairs than it normally uses. Some are more common than others, but all of them were compelling and fun to watch.
First up, we have Gordon and Alfred (pictured above). The two have teamed up for badassery in the past, but this one was one of my favorites. We all know that Alfred would make a killer cop, and I'm enjoying seeing Jim's half-hearted "search" for a new partner, since Bullock's hands are completely tied as Captain. He's been on adventures with several characters, but I'd love to see him make Alfred a more semi-permanent replacement. Especially since Alfred will have free time while Bruce hangs up the "suit" for a little while. Sean Pertwee and Ben McKenzie have great chemistry, and I especially enjoyed watching them take down the cronies at the jail.
Sofia and Oswald had a bit of a weird thing happening. It's pretty clear from their dynamic that Sofia is simply going to great lengths to earn his trust and lower his guard. But they are GREAT lengths. The lengths are much farther than I would ever go with anyone. Sure, if I really cared I might try to get ahold of your mothers recipe for something and make it, but there is absolutely no way I would ever touch your gross feet and ankles. This could backfire for Ms. Falcone, or it could work better than she ever thought possible. Either way (it's still gross, but) I'm interested in how it turns out.
Perhaps the most interesting pairing of this episode had to do with the re-emergence of Butch Gilzean/Cyrus Gold/Solomon Grundy. Drew Powell explained to us at Comic-Con just how excited he was to create a human iteration of this character. A lot of fans had questions about whether or not Butch was still inside this man, but I think it's pretty obvious that he's in there somewhere. Anyway, I'm really enjoying this lost boys/former supervillains vibe that Grundy and the Riddler are giving off. From a few other things that I learned at Comic-Con, rumor has it that there will be a bond between these lost boys and newly rediscovered Lee Thompkins after their visit to the Fight Club.
Here are a few other thoughts:
What in the heck did Ra's do to Barbara through the walls of the cell? Any theories? I'm assuming it has something to do with how he will inevitably rise from the dead…just like every other Gotham character.
Still speaking of Ra's…do you think he's really dead? I mean he obviously isn't but it threw me that they even attempted to kill him. Could Barbara or Sofia or someone else be a bigger problem?
I'm going to predict that we'll get to Episode 8 before Lee and Jim reunite. Maybe sooner, but definitely no later. Either way I'm ecstatic to have Morena Baccarin back.
Overall, this was a solid episode of Gotham. It wasn't perfect, but it was fun to explore these different dynamics. And I was definitely excited to find Lee Thompkins back on my TV.
What did you guys think? Did you enjoy the episode? Let us know!
Gotham airs Thursdays at 8/7c on FOX
Gotham Season 4 Episode 5 Review: "A Dark Knight: The Blade's Path"
Summary
Bruce seeks out Ra's Al Ghul and Alfred and Jim try to stop him on this week's strong episode of Gotham