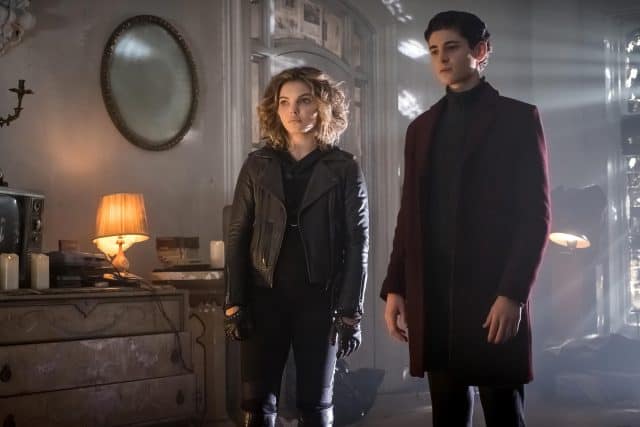 The first half of Gotham's third season is winding down, and therefore the stories established in it are also beginning to drain the hourglass. Lots of the threads it set up toward the beginning are finally winding down, and some new ones are just beginning. Overall, they really haven't wasted too much time paying off most of these stories, which has worked out well for the show.
This week on Gotham: Ivy resurfaces to Selina and Bruce, after getting into a little scrape with her new found talents. Ivy's trouble leads the kids to a larger mystery. Gordon suspects Captain Barnes for a recent murder, which leads to a a stand-off between the two men. Harvey and Lee must come to Jim's aid when he's cornered by Barnes. Nygma, grieving for Isabella, comes to discover that her brake lines were cut.
There isn't really much of away around spoilers for this episode. Barnes finally comes clean to Gordon, but then tries to kill him and frame him. I'm not sure that Barnes' descent into madness was well-documented enough. Of course, we likely haven't seen the last of it (and there's a rumor floating around that Barnes becomes Bane), but it just seemed a little sped up all of a sudden. I appreciate, though, that he doesn't go around killing people for an inordinate amount of time before someone finally figures it out. Jim and Harvey are smart and it's satisfying that the show treats them that way. I do want to know, though, why they weren't suspicious sooner. I mean the dude just ditched his crutch one day.
Ivy returning really didn't do anything for me, until they introduced this larger mystery. I think it makes sense that they aged her up and turned her into a little more of a seductive, comic-book Ivy and less of a weirdo kid, but so far it seems that the only reason for it story-wise was for her to steal this necklace and push Bruce and Selina into solving this mystery. I think that Maggie Geha is doing a good job, but the whole thing just feels weird/off.
Then, there's Nygma. This is my least favorite plot, but not because I dislike either character. In fact, Cobblepot and Nygma are bar none two of my favorite characters on the show. But what I don't like is where this show is obviously going with this particular story. Nygma suspects Butch (which will at least bring the underrated Drew Powell back to the show), but then his continued investigation will lead to Oswald, which will drive a deeper rift between the two. Killing one's love in hopes of earning their love is a tropey mess that will always lead the same way. Of course, I hope they prove me wrong and surprise me, but I doubt it.
Here are a few other thoughts:
Every expression on Lee's face screams "I'm still in love with Jim". I mean, we all knew that, but props to Morena Baccarin for using her facial expressions so well.
Two of my favorites were conspicuously absent: Barbara and Alfred. Hope we see them back soon.
I wonder if they'll cure Tetch's blood first, or Barnes will become Bane first? It's exciting to think about.
Also, who becomes Captain in Barnes' place? Do they bring in an outsider, or does Bullock or Gordon take the job?
Overall, I found this episode enjoyable, but it emphasized a few of the plots that don't quite make sense to me. Hopefully they will clear up in the next few weeks before hiatus.
What did you guys think? Did you enjoy the episode? Let us know!
Gotham airs Mondays at 8/7c on FOX
Gotham Season 3 Episode 9 Review: "Mad City: The Executioner"
Summary
Bruce and Selina help Ivy, who is in trouble, while Barnes and Gordon go head to head in this week's episode of Gotham.