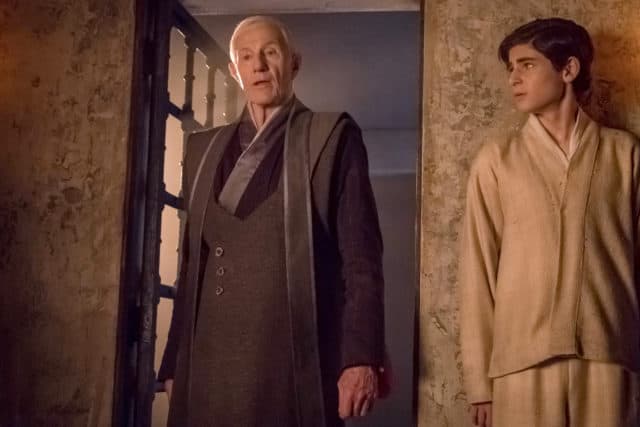 I'm so glad that Gotham is back, and perhaps the best part of this new segment of episodes subtitled "Heroes Rise" is that it focuses on the "good guys" of Batman lore: Bruce Wayne and Jim Gordon. Of course, there's still plenty of scum and villainy to deal with, but the character study on the good guys is what made this episode interesting. It was also Ben McKenzie's directorial debut, which I thought was superb.
This week on Gotham: Bruce wakes up in some sort of temple, with a Shaman capable of making him experience his memories. Frank Gordon pushes Jim into investigating his father's murder, and which reveals the Court of Owls to he and Harvey. Gordon and Bullock enlist Barbara to investigate a weapon shipment for the Court of Owls. Penguin, fully recovered, teams with Ivy to unveil the treachery in his henchmen.
As I mentioned, above all this is a character study for both Gordon and Bruce. For Bruce, it's pinpointing the fear and apprehension that lives inside him. Before he eventually becomes Gotham's "protector", he needs to overcome his own personal barriers. This was all very reminiscent of Batman's time with the League of "Shadows" in the Batman Begins movies, but it was still an interesting, character focused piece.
I found Gordon's story overall to be much more interesting, though. He quickly came to terms with his father's death, who had done it, and who had ordered it. There was also an interesting, intertwined mystery as to where Frank Gordon's loyalty lied, but that resolved pretty quickly. Every bit of Gordon's saga benefited from McKenzie's direction. It also combined my three favorite characters on the show: Gordon, Bullock, and Barbara, so it was an all around victory.
The Penguin/Poison Ivy saga was a bit more puzzling to me, until the end when Penguin killed his henchmen and Ivy suggested he build an army of freaks. The villains have already risen, and now they're illustrating the need for heroes to do the same by coming out in full force. As a big Batman fan, I know which characters become heroes and which become villains (you know, except for the occasional wacky left turns), but what's compelling about this show and story is that it gives background and character study to support that happening. Even still, it's an exciting story, both well-told and well-acted.
Here are a few other thoughts:
Of course Harvey would know the name of that disease because you can't drink if you have it.
On the Court of Owls running Gotham City: "If that's true, someone should tell them they're doing a terrible job"
I really, REALLY enjoyed Jim and Lee's encounter at the cemetery. Powerful.
On that note, it was also great to have Falcone back, and to see that mutual respect between he and Gordon begin to creep back out.
And here's my weekly blurb about how much I adore Erin Richards as Barbara "Queen" and the direction they've taken her character. Absolutely phenomenal.
As we get to the end of the season, we have to wonder about whether there will be a 4th season of Gotham. I don't think that their story is over, and it only gets  better as it goes along. Wacky, insane Gotham is the best Gotham. 
What did you guys think? Did you enjoy the episode? Let us know in the comments!
Gotham Season 3 Episode 16 Review: "Heroes Rise: These Delicate and Dark Obsessions"
Summary
Jim revisits his father's murder amidst dealings with the Court of Owls in this week's compelling episode of Gotham.