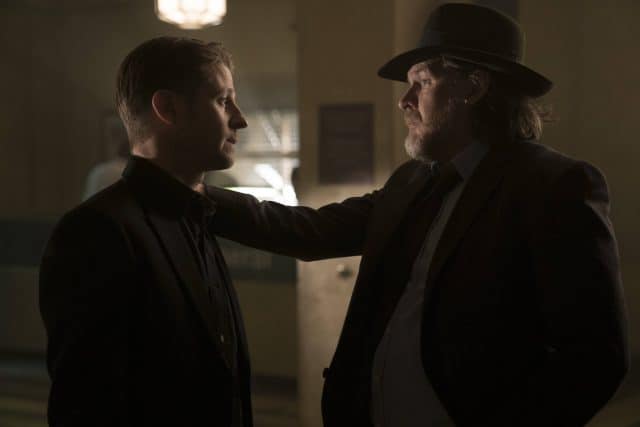 Gotham has already been good this season. All the stories they've taken us through have been compelling and fun to watch. However, "Mad City: Follow the White Rabbit" really took things up a notch. The stakes were higher than they've ever been, and it really established the dark, dangerous tone that Gotham is usually going for. Rarely have I seen such a high stakes episode as this one. Every twist was dark and dangerous, and every minute was pulse pounding twisty goodness.
This week on Gotham: The Mad Hatter seeks his revenge on Jim by killing innocents, and kidnapping Leslie and Valerie to make Jim pick between them. Jim works with Barnes, Bullock, and Mario to try and save both women. Oswald has something important to tell Ed, but runs into a few hiccups.
First of all, it turns out that I was NOT imagining the sexual tension between Ed and Oswald last week. BUT, it may be only one sided. After this weekend, I predict that Oswald will either suppress his feelings, or Nygma will let him down gently, as Nygma is definitely (mostly) straight. I have a slightly insane fan theory about this new girl, Isabella, that I will share toward the end of this review.
The best part of this episode was the pulse-pounding nature of it. Every second was urgent. I loved that it wasn't wrapped up in a nice little bow. It was dark and gritty, and you could really tell that the Mad Hatter was working hard to devastate Jim, and that it was working. I hate when shows set up a scenario like this, only to weasel out of it somehow. But first he saved the kid and lost the married couple, and I knew from that moment on that this was going to be a dark one. Despite trying to get out unscathed with Mario's help, Valerie gets shot. Now, I'm pretty certain that Jim new what was going to happen, and he was taking his chances with Valerie receiving good care from the two doctors in the building. But it sets up a really poignant story going forward, as I doubt Valerie will see it that way.
Here are a few other scattered thoughts (and a crazy fan theory) I had while watching the episode:
How long before Captain Barnes just totally hulks out on someone? I'm really interested in what's happening to him.
I really enjoyed the use of the Alice in Wonderland references manifested as characters. The White Rabbit gave a particularly chilling performance.
Some of my favorite moments during this entire season have been the brief Jim/Barbara scenes. Erin Richards is insanely good (pun intended) and it's worth watching entire episodes just for this interaction.
Okay. Crazy fan theory time. Penguin is prepared to confess his love to Ed, just as Ed meets a new woman that bears an uncanny resemblance to Kristen Kringle. My theory is this: Somehow, Butch has aligned himself with Fish Mooney and Dr. Strange, and they have resurrected and altered the memories of one Kristen Kringle, just to mess with Penguin. It could just be that they (Isabella and Kringle) look alike, and they are reinforcing Ed's sexuality, but I'm not sure I buy that. Since almost every other dead character has come back, why not her?
This episode was thrilling at every turn, and so much fun to watch. I've never been more excited for what comes next.
What did you guys think? Did you enjoy the episode? What do you think of my crazy theory? Let us know in the comments!
Gotham airs Mondays at 8/7c on FOX
Gotham Season 3 Episode 6 Review: "Mad City: Follow the White Rabbit"
Summary
Jim battles the Mad Hatter for innocent lives, and Penguin plans to tell Ed a secret on this week's excellent episode of Gotham.