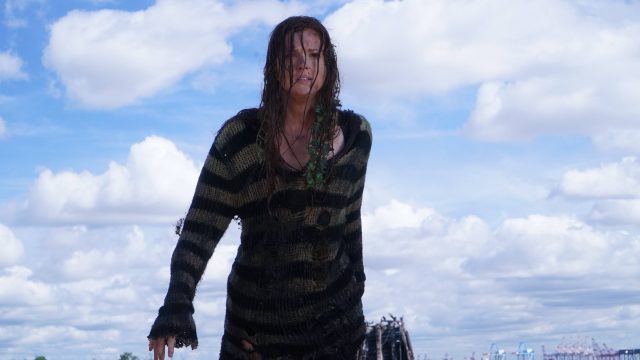 Well ladies and gents, we are now two episodes in to the latest Gotham story and I've got to say, I'm really digging it so far. Last week there was a lot of checking in on characters, and this week was a little more about setting up an arc for the season. Though there were still some exposition heavy elements, this week's episode was extremely strong.
This week on Gotham: Ivy emerges from the water with a new look, and certainly isn't acting her age (pun intended). Bruce has a meeting with the group who really runs Wayne Enterprises, and makes a deal with them. Gordon teams up with Valerie Vale to track down Fish, who has taken Harvey. Penguin leads a revolt against Hugo Strange's "creatures".
I've got to say how impressed I am with this week's episode. Even though I thought the story about Ivy was misplaced (as in, should've been in a different episode), everything was fluid and well paced. Ivy's story didn't dominate the episode, and the primary plot (Jim, Fish, Bullock, Penguin) was excellent in every way. It was satisfying, it made sense, and the acting was superb.
Of course, one character's acting stood out above the rest. For me, that was Erin Richards' Barbara. Though her scene was short, everything about it was brilliant. From Jim's hello to their rushed goodbye, I never wanted that scene to end. It was funny, insane, and actually served a bigger purpose to the story. Ever since Babs went nuts I've been a big fan, and this episode only encouraged that notion.
The Fish situation coming to a head at Hugo Strange's holding area was some seriously great television. Of course, I'm a big believer that getting Gordon, Bullock, and Penguin in the same story is worth it every time. The "witch hunt" plot in its entirety was really well executed, and perhaps the only thing I would've changed is that in my version, Penguin would've killed Fish. But, I'm not a producer, and leaving the door for them to finish that later is fine by me.
I figured by now that Gordon would be back as a cop, so kudos to Gotham for not being afraid to mess with the status quo. That's what category the Ivy plot falls under too. Though I think Ivy's story was out of place in this episode, I'm still intrigued and excited for the possibilities.
I don't always see romantic chemistry between characters put together on shows, but it's apparent there with Jim and Valerie Vale. I can't wait until (spoiler alert) Leslie's return shakes that up again. The episode ended with just the right amount of questions, like "why is she back?" and "what's coming next?" Good on you, Gotham. I'm definitely tuning in next week.
Overall, I'm EXTREMELY impressed with the direction of these first few episodes, and especially "Burn the Witch". It was a well executed, well acted episode and I thoroughly enjoyed it.
What did you guys think? Did you enjoy the episode? Let us know in the comments!
Gotham airs Mondays at 8/7c on FOX
Gotham Season 3 Episode 2 Review:
Summary
Fish kidnaps Bullock, while Jim and Valerie spring into action, on this week's excellent episode of Gotham.