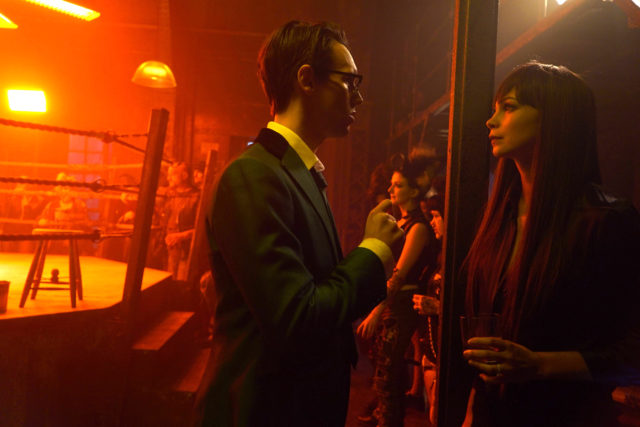 I've been a big fan of Gotham since the very beginning. As things have gotten wilder for the residents of the titular home of Bruce Wayne/Batman, I have been on board with almost all of them and totally embraced the wackiness that ensued. However, I will always have a soft spot for the buddy cop show and mafia drama that the show started out as that pitted Gordon and Bullock against police corruption and the Falcone and Maroni crime families. "Hog Day Afternoon" felt eerily reminiscent of those days, and it was equal parts nostalgic for the early days of Gotham and a thrilling story.
Though it was removed from the GCPD precinct, the reunion between Ed Nygma and Lee Thompkins was reminiscent of the days when they first met. Because of their more recent history, it was much more tense, but since Lee is a doctor Ed needed her, and since Ed and Solomon Grundy are "best friends" and now rolling in dough, Lee needed that cash to help people. So the tense scenes at the underground ring became an unholy alliance of sorts, and the addition of Butch/Grundy to the mix adds another layer to the story. Ben McKenzie and Drew Powell teased this dynamic a little bit at Comic-Con, but I appreciated it much more now that I've seen it.
I wonder at this point if it's more likely that Sofia is playing Gordon or Penguin. There is pretty clearly more than meets the eye when it comes to Sofia, and Crystal Reed does a marvelous job balancing her character to not show her true colors. She could even be playing both Gordon and Penguin planning for a return to prominence for the Falcone name, which could cause another unholy alliance between the two enemies. I wouldn't be mad about it. Either way, Reed is phenomenal in the role and Robin Lord Taylor was masterful opposite her. I imagine that Penguin was right not to trust her, but time will tell.
Of course my favorite story of this episode was Gordon and Bullock together again as they hunt down Professor Pyg. In the early days of Gotham, the Gordon and Bullock buddy cop show was Gotham at its absolute best. "Hog Day Afternoon" was no exception to that. Professor Pyg, though he sounds ridiculous, turned out to be a compelling, terrifying villain that we (thankfully) get to see more of before his story wraps. Perhaps the most compelling piece of this story was P.P. (stop giggling) taking out dirty cops, and deliberately avoiding harming Gordon in favor of Bullock. In DC lore, Harvey Bullock isn't exactly straight as an arrow and revealing him as dirty adds a new layer to his relationship with Gordon. This has long been one of my favorite relationships on the show, so it will be interesting to see how Bullock's money grubbing ways will throw a wrench in that relationship.
Here are a few other thoughts:
I hate to say it, but I didn't miss Bruce at all. Maybe because I've already seen the Dark Knight movies. (Nope. Never letting it go.)
I'm suspicious of Sofia, but at the same time, what could an orphanage possibly be a cover for? Is she training an army of children to rebel against Penguin?
Professor Pyg is the best villain of the week that Gotham has had in a long time. I hope we see more of him.
Also, here is your weekly reminder that Victor Zsasz is a precious gift that we should all be cherishing.
I don't know if this is the best episode of the season, but it's very close (I'm rather fond of the episode that Ben McKenzie directed). There was a compelling villain and it really reminded me of all the reasons I love the show.
What did you guys think? Did you enjoy the episode? Let us know!!
Gotham airs Thursdays at 8/7c on FOX
Gotham Season 4 Episode 6 Review: "A Dark Knight: Hog Day Afternoon"
Summary
Gordon and Bullock hunt the cop-killing Professor Pyg, while existing alliances are tested and new ones are formed on this week's compelling episode of Gotham