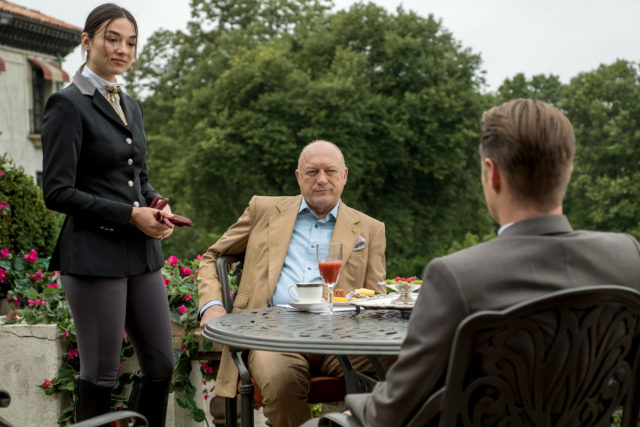 I've been pretty hard on Gotham lately for turning too close to the Dark Knight trilogy for its stories. Though I could still feel that in the air, especially with the return of Ra's Al Ghul, this episode felt decidedly more Gotham and decidedly less Christopher Nolan. There were some interesting twists and turns, as well as the return of some fan favorites. I was starting to feel a little down about the direction of the show, but I'm decidedly more optimistic following this week's installment.
I was hoping for a little more tension between Gordon and Falcone during their reunion, but at the same time I greatly appreciate that they were on screen together. I was nostalgic for season one, and pleased with the growth in each character that allowed them to move beyond the death of Mario. I don't know that I'm convinced that Sofia has forgiven Jim for doing what he had to do with Mario. This could be a long con, as this episode was titled "Those Who Wear The Masks". Sofia's mask could be more of a metaphorical thing, planning to get close to Jim and then burn him. Either as a love interest or potential betrayal, I'm excited by the possibility that Sofia creates.
This was also when we were finally able to revisit Ed Nygma since his "Han Solo" moment. I'm not sure how exactly a living person would respond to being frozen for that long, but the approach that Gotham took at least feels realistic. He has trouble feeling his body at first, and it messes with his brain. Probably the least realistic part is that fan girl he went to school with outsmarting Penguin and freeing him from his icy prison. Nonetheless, I was happy to see him on screen again. That story has a lot of potential.
Still, I have concerns about Bruce's story being far too close to the plot of the recent films, but this episode finally felt like a strong deviation. Even though it still had Ra's Al Ghul, Barbara was involved with him, which intertwines all of the characters and plot threads in Gotham. Bruce unwittingly saves Selina, who's connected to Barbara, and both Bruce and Barbara are connected to both Gordon and Ra's Al Ghul, making next week feel like I should be bracing for a showdown.
Here are a few other thoughts:
Penguin feels decidedly more ruthless this season, but I definitely think that is a good thing.
I really enjoyed seeing Sean Pertwee and David Mazouz (both strong actors) play characters who are terrible actors. Fun little paradox.
My curiosity is in full swing as to the whereabouts of Lee Thompkins and how she might be secretly involved with the Falcones. She, too, has beef with Gordon.
I'm going to need more Captain Bullock, please.
Was the new cop that Bullock introduced Gordon to a comic book reference of some kind? Or did I just miss something? It felt like a throwaway but there's a chance I dozed off.
Overall I'd say this was Gotham Season 4's strongest episode yet. I'm so glad to see things working again that aren't ripped directly from a film.
What did you guys think? Did you enjoy the episode? Let us know!
Gotham airs Thursdays at 8/7c on FOX
Gotham Season 4 Episode 3 Review: "A Dark Knight: Those Who Wear The Masks"
Summary
Jim goes to visit Falcone and Nygma escapes Penguin's clutches on this week's strong episode of Gotham.