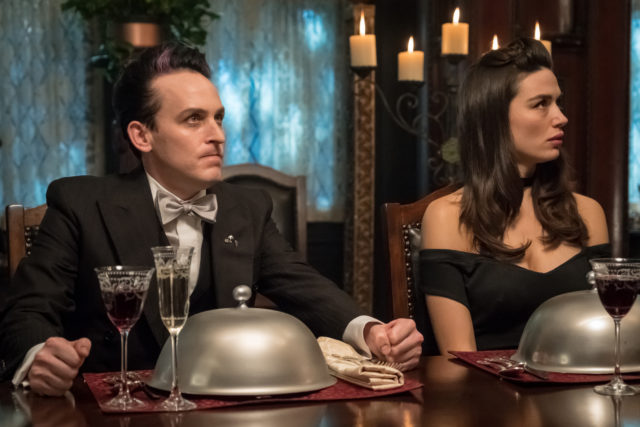 I greatly appreciate Gotham, especially when it has been telling stories that span several episodes and have exciting potential. It's no secret that I'm a big fan of the Professor Pyg story they've been telling over the past four or five episodes. The stakes are higher, and with a lesser known villain there's more room for creativity. Pyg is one of the more exciting, dangerous villains they've faced on Gotham, and even though it SEEMED like everything came to a head in this week's episode, the preview for the next episode indicated that Professor Pyg may yet cause some more damage from prison. Sounds pretty terrifying to me.
Albeit briefly, this episode further explored the now-fractured relationship between Bullock and Gordon, which remains one of my favorite relationships on the show. Of course it makes me sad to see one of my favorite television bromances fall apart in front of my eyes, but it feels natural and real. At his core, Gordon has a certain set of beliefs that he sticks to no matter what. Bullock, on the other hand, is morally flexible. Bullock believes that his way is by necessity, and Gordon has a vision of a better Gotham City. Gordon aligned himself with Sofia and the Falcones, while Bullock chose Penguin and now we're seeing the consequences of that. Of course, I don't believe we're seeing ALL the consequences yet. And I desperately hope for Bullock and Gordon to bury the hatchet. Mostly, that's because I miss their banter, but the chemistry between Donal Logue and Ben McKenzie can't be ignored.
I'm still fascinated by the Gordon/Penguin/Sofia saga, mostly because I truly can't decide where Sofia's loyalties truly lie. It was only a short time ago that Gordon killed her brother, which is still widely regarded as a crime of passion, despite finding the Tetch virus in Mario's system. When Sofia came to Gotham and struck up a romance with Gordon, I was skeptical of her intentions, and I still am. It's a little more obvious that she's playing Penguin, but what's her angle? Does she really think Gordon is the best thing for Gotham? I tend to think she's working Gordon and Penguin against each other in preparation for a Falcone takeover. I'm more excited to find out how it turns out than hoping for it to be one thing over another. But it's nice to see Jim involved with someone other than Lee or Barbara, and Crystal Reed has been an absolutely marvelous addition to the show. She's sorely underrated.
Now for the stinker: Bruce. I get it. Bruce is tormented because he's accomplished everything he set out to in avenging his parents murder. Now, he's also killed a man (albeit, a dangerous one). His own personal torture has turned him into a rebellious, partying billionaire playboy who likes to drink and make out with girls. I honestly think that Bruce's character is more interesting this way, but his story just doesn't fit in with everything else happening on the show. Gotham has essentially divided the show into three sections: The Narrows, GCPD Mafia Crimes Unit, and the Bruce Wayne saga. The former two have a much better capacity for intersection than the latter, making Bruce feel like an outlier. I still think the world of David Mazouz and Sean Pertwee, though.
Here are a few other thoughts:
I think the show could solve its Bruce problem by separating his story, the Grundy/Riddler/Lee Thompkins story, and the Penguin/Sofia/Gordon saga into different episodes. They can still intersect, but stick to one main story per episode. I think it would feel less convoluted this way, and they really wouldn't have to change anything other than the order in which the stories are told.
Seriously, though, when is Bullock coming back to be a cop? I already miss him.
I've been pretty focused on the performances of other actors in my articles lately, but Robin Lord Taylor remains masterful as ever as Penguin. He's always been close to perfect in the role, and he's only gotten better over four seasons.
"That pig is eating that guy!"- One of the funniest "DUH" lines ever.
I'm probably sick and twisted, but I loved the meat pie angle and all the gross reactions.
Overall, I'm pleased with the way things are going on Gotham. It's still a bit confusing to have things titled "A Dark Knight" and have Bruce involved in such a weird way, but the storytelling prowess is still there. The characters are strong as ever, and the story is exciting, and that's all that really matters on Gotham.
What did you guys think? Did you enjoy the episode? Let us know!
Gotham Season 4 Episode 9 Review: "A Dark Knight: Let Them Eat Pie"
Summary
As Captain, Gordon continues to hunt Professor Pyg while Penguin tries to discern where Sofia's loyalties lie on this week's strong episode of Gotham.