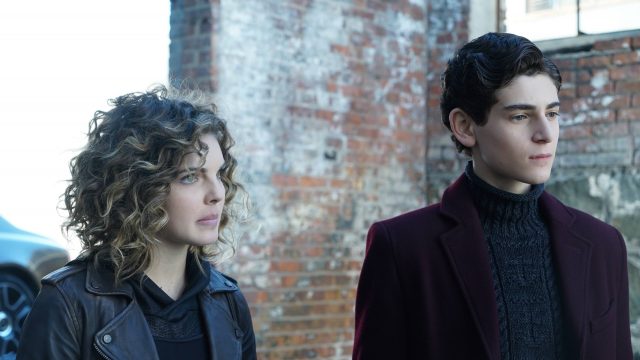 As Gotham approaches its mid-season finale, all of the stories that have had their groundwork laid are coming to fruition. The best part about the season is that, though these stories have been simmering and are now really cooking, none of them have felt drawn out or rushed. Some of them have been more predictable than others, but largely, the season has been exciting and fun to watch to this point.
This week on Gotham: Barbara searches for Butch and Tabitha, who have been taken by Nygma as penance for Isabella's death. Barbara discovers the true killer. Jim investigates an assassination attempt at the Falcone house, and soon finds out it was meant for Mario, and not Carmine, which complicates things. Bullock becomes acting captain of the GCPD in Barnes' absence.  Bruce, Selina, Alfred, and Ivy uncover an opposing force to "The Court of Owls".
Obviously, there was a lot happening in this episode. What I really appreciated about it was how well it used almost all of its characters. By my count, the only series regulars that didn't appear in this episode were Arkham patients, Tetch and Barnes. Everyone that was used was used well, and that's sometimes a rarity for a show with such a large cast. It also used the "Court of Owls" to tie together the Falcone story with the Bruce Wayne story, which gave things another layer and made it all more interesting.
I have to admit that I did not predict Mario being Tetch-juiced. I should've caught the warning signs through the episode, like his asking about the cure, and Lee's repeated justification of him with "he's a good man". Still, I was a bit surprised by the revelation but also excited. Mostly because I'm a major "JimLee/Gordompkins/whatever it's called that I don't know about because I don't practice shipping" fan.  But also because he represents the other side of things. If they're able to bring Barnes back from the brink, they'll be able to bring him back too. But I think it's likely that he has a darker past than he's letting on.
I'm also really excited about the Court of Owls and Bruce deciding he still wants to fight. I feel strongly that this is a good use for Bruce and his band of misfits. I was sad to see his allies get taken out so soon, but I'm sure it'll still be fun with Bruce, Alfred, Ivy and Selina.
Here are a few other scattered thoughts:
"If you're worried, you could tell her not to marry the son of a former crime boss." Acting Captain Bullock might be my favorite Bullock.
It was good to see The Americans' Costa Ronin on my TV screen so soon, and I really wish he was sticking around.
If I'm a betting man, the war that Butch, Tabitha and Barbara plan to start is going to take over as the show's most interesting story. I'm really excited about it.
This was an enjoyable episode, and it set the stage nicely for what should be an even better fall finale episode. With all of this meat in the story, surely Gotham will still be a "Mad City" in 2017.
What did you guys think? Did you enjoy the episode? Let us know in the comments!
Gotham airs Mondays at 8/7c on FOX
Gotham Season 3 Episode 10 Review: "Mad City: Time Bomb"
Summary
Gordon works to protect Mario, while Bruce and Barbara both discover secrets on this week's strong episode of Gotham.