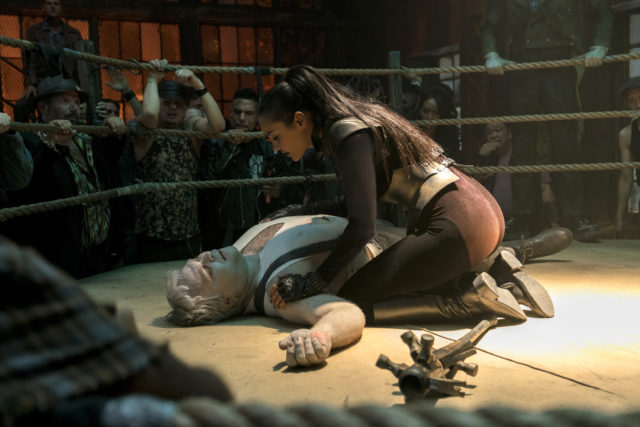 I quite enjoyed this week's episode of Gotham.
…OK. I'll elaborate.
Gotham explored several stories this week that have been teased for awhile and each one proved to be worth the wait. The conflict going back and forth between Gordon and Bullock came to a head, Sofia Falcone's boundaries are found, and Penguin's search for Ed leads Tabitha to finding Butch and leads Lee into a new leadership role. All of these stories converged swiftly and easily between each other. Some of them were fun, others were emotional, but each story built off the other and was important in the larger season story. It also conveniently left out Bruce Wayne, who is a strong young actor with interesting stories to tell, but I did not miss him during this one.
Merging the lovely outlaw ladies of Gotham with Penguin's vendetta against Ed was perfectly timely. Solomon Grundy had been around just long enough to need some sort of twist or development in his story, so Tabitha arriving was timely. Writing about it now makes it sound contrived, but it really didn't feel that way. Grundy gets hit over the head a lot, so it's only natural that some of Butch's memories would bubble to the surface. So Tabitha's arrival is timely as it happens just as Butch/Grundy is starting to remember bits and pieces of the love of his life. It was emotional for Tabitha and heartbreaking and entertaining to watch as a viewer. Adding Ed, Lee, and Barbara to that mix just added another strong emotional layer to everything. Tabitha and Ed have beef, and Tabitha is offended that Ed and Butch would be on the same team. Then former loves of Jim Gordon's life Barbara and Lee created an even more interesting dynamic. Erin Richards and Morena Baccarin are marvelous.
In other stories, Penguin was helping a kid figure out how to get revenge on his enemies by using friendship to advantage and through that, he figured out that Sofia Falcone is doing the same to him. Penguin and Sofia's relationship thus far has been an exercise in manipulation, but mostly the latter manipulating the former. Crystal Reed has proven to be an excellent counterpart to Robin Lord Taylor's Penguin, and I'm even more anxious to continue their story now that Penguin is aware of Ms. Falcone's approach.
Perhaps the most emotional and heartbreaking story, though, was that of Jim Gordon's promotion to Captain at the expense of his good friend, Harvey Bullock. The relationship between Jim and Harvey has been one of my favorites throughout  the run of the show, so when it became tense this season I was heartbroken. I've always enjoyed, too, the dynamic of the two when Bullock is the Captain. But, the comic book Bullock was never really the ambitious type. The conflict between the two men slowly escalated until Gordon felt he had no choice but to take the job, and the scene between Ben McKenzie and Donal Logue revealing that was powerful and devastating, only trumped by the realization Gordon had when he realized that Sofia had done this to him and why. This has been one of Gotham's best episodes to date, and this was a big reason why.
Here are a few other thoughts:
One of my favorite short scenes of 2017 is now Solomon Grundy ripping a dude's arm off and beating him with it. In related news, one of my favorite new episode titles is "Stop Hitting Yourself".
An underrated exchange: Selina pretending to be a starstruck fan of Ed's. Cory Michael Smith and Camren Bicondova were not the focal points of this episode, but each made a meaningful contribution.
I'm really excited to see Lee as the leader of this new "Narrows" location, and even more excited that Barbara contributed to her rise.
Overall, this may have been my favorite episode of Gotham ever. If not ever, DEFINITELY this season.
What did you guys think? Did you enjoy the episode? Let us know!
Gotham airs Thursdays at 8/7c on FOX
Gotham Season 4 Episode 8 Review: "A Dark Knight: Stop Hitting Yourself"
Summary
Loyalties shift as Grundy is "reunited" with Tabitha on this week's phenomenal episode of Gotham