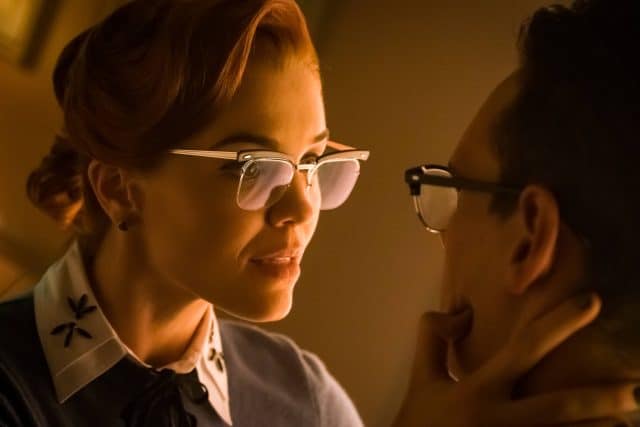 Gotham has been quite a ride so far this season. Not only has it delved into some of its most interesting characters, but each episode has been thrilling in its own right, whether psychologically, physically, or somewhere in-between. Two of Gotham's most compelling characters, Captain Nathaniel Barnes and Edward Nygma spent this episode on a fascinating psychological journey, which sets up a (mostly) exciting journey to come, especially now that Gordon is back on the force.
This week on Gotham: Ed and Isabella have a blossoming romance, but when Isabella puts on her horn-rimmed glasses, Ed becomes scared that he might hurt her. Oswald, ever the gentleman, acquiesces to Ed's request to help him end things with Isabella. Captain Barnes, still plagued by Alice Tetch's blood, seeks Jervis Tetch's help. Gordon visits a brutal murder scene on his first day back on the force. Carmine Falcone throws Mario and Lee an engagement party.
Gotham has found some immensely satisfying ways to tell these psychological stories. Let's start with Captain Barnes. Last season, we all sympathized with Jim Gordon when he wanted to bend the rules to bring the bad guys down, and Captain Barnes had none of it. Now all it took was a little tainted blood for Barnes' deep seeded anger at the criminal justice system to come out. To watch "by the book" Barnes wrestle his rage and intolerance for crime was fascinating and compelling. Now that Gordon is suspicious, but Barnes has become a hulked-out version of Season 2 Gordon, we should see an interesting shift in dynamic. Plus, seeing Barnes take down those smug jerks is really satisfying.
Even though my previously established fan theory about Isabella and Kristen Kringle being the same person was a wash (same actress, so it was worth a try), the journey that Isabella sent Nygma on was fascinating. He found his humanity, and that he was not going to hurt Isabella. Then, of course, a jealous Oswald ripped her from him. I'm assuming (spoilers ensue) that Isabella was, in fact, killed by Oswald's tampering. Ironically, Isabella being killed by Oswald is the same as that cop being killed by Nygma in Season 1. It will turn the Penguin and the Riddler into mortal enemies, instead of doing what Oswald wants. Probably my only qualm with the story is how it may put Nygma into the opposite side of the conflict, but it'll be basically the same thing. Of course, just because we're meant to believe that Isabella was killed thanks to Oswald doesn't necessarily mean that she was. It IS Gotham, after all.
Here are a few other thoughts:
I really enjoyed Bullock in this episode. Now that Jim's back on the force, hopefully Bullock will be able to relax and be fun. Donal Logue is at his best when Bullock exercises minimal seriousness.
After this week, I believe 100% that Lee is still in love with Jim. Mario is great on paper, and that's the only way she could defend her choice to Barbara.
I'm curious how they will continue to involve series regular Benedict Samuel going forward, but this week's clever scene with Barnes was a good start.
With the possibility that Nygma will be part of repetitive history taken into account, this was still an excellent episode. Embracing the insanity of Gotham and its occupants has been a real strong point for the show, and I'm excited to see it continue.
What did you guys think? Did you enjoy the episode? Let us know!
Gotham airs Mondays at 8/7 on FOX
Gotham Season 3 Episode 8 Review: "Mad City: Blood Rush"
Summary
Nygma deals with trouble in his relationship, and Captain Barnes takes a turn for the worse on this week's strong episode of Gotham.