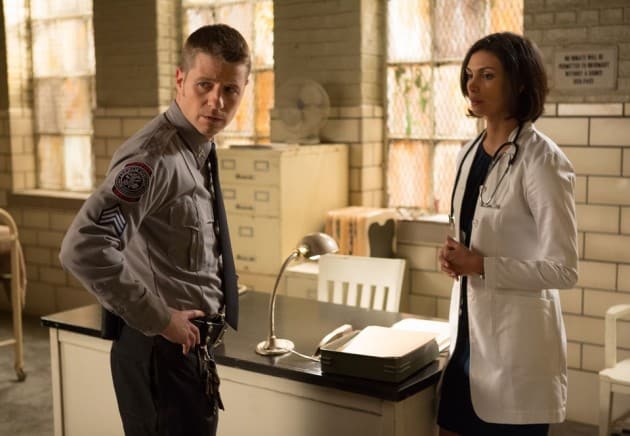 It's 2015 and DC Television is slowly starting to return to our television screens with last night's mid-season premiere of Gotham, where Gordon's new adventure as a security guard at Arkham Asylum began.
The bigger portion of the first episode back was pure fun and actually one of the more relaxing episodes of Gotham so far despite everything that went down. Arkham Asylum has always been one of the more interesting aspects in the Batman mythos and seeing what this show is setting up to do with it is exciting. Gordon acts as eyes for the audience as we get to witness the madness that is Arkham, and it does open the door for seeing more Batman villains, or DC characters overall, that are connected with Arkham down the line.
"Rogues' Gallery" had a lot of comedic elements to it as (and this is not to make fun of mentally ill people at all) the inmates of Arkham came off very goofy in the beginning. For a show like this one that can be very dark (since it's Batman-related), it's good to have some humor every once in a while. The "Electro Killer" case was one of the more interesting villain-of-the-week cases that we have had so far, although judging by the ending, it will be a 2-parter this time.
We got an introduction to another big Batman character, Dr. Leslie Thompkins (portrayed by the talented Morena Baccarin), who I'm not too familiar with from the comics. One thing I do know is that I'm a huge fan of Baccarin so to see her (finally) pop into a comic book show is great as a viewer. She clicked right away with Ben McKenzie's Gordon; they had a very sassy dynamic that is always appreciated. However, the possibility of these two hooking up and getting into a romantic relationship isn't something that I am looking forward to.
The Barbara and Montoya relationship took an odd turn quickly in this episode after the revelation in the mid-season finale. I haven't been a big fan of Barbara for quite some time because she has so far not served any purpose on the show, but I have been waiting to see improvements. Sadly, the scenes she had last night only made it worse as she is now taking drugs, drinking and being a complete mess. Unless the writers can find a better role for Barbara on the show by the time we get to episode 20, then I would prefer to see this character killed off in the finale.
As Barbara is becoming an annoying part of this show, Fish Mooney is finally starting to grow on me as she is becoming a more enjoyable character than she was in the first half of the season. There is still plenty of room left for improvement, but at least they are using that room to improve her. Her continuing arc of wanting to take down Falcone takes one major step forwards, and while I'm sure she will get closer and closer, there is no way she will actually take down Falcone.
Overall, this was a very satisfying premiere, despite the pain that is becoming Barbara. Also, while I didn't mention it above, Bullock was just perfect in this one because let's be honest: how awesome was it to see him give Gordon a kiss on the cheek?
Gotham will be back on January 19 with the 12th episode titled "What the Little Bird Told Him", 8/7c on FOX.
[Photo via FOX]