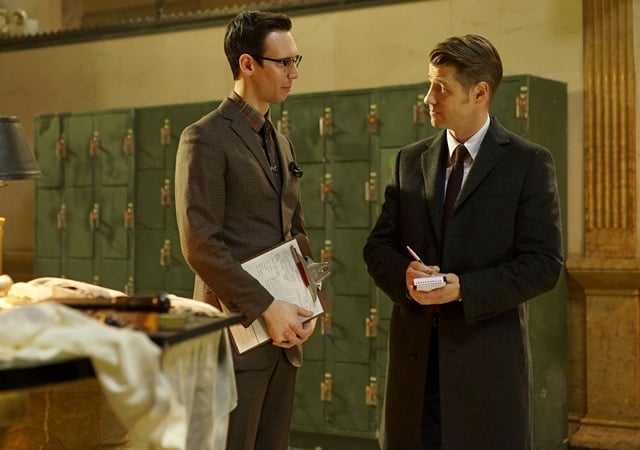 Several plots in this week's episode of Gotham took many steps forward as Nygma succeeds with his plan in framing Gordon while Oswald finally meets his father for the first time as Paul Reubens guest stars as Penguin's father while Selina gives Bruce his first experience in living a tough life.
I always forget his previous Batman history whenever it is referenced to me that Reubens also played Penguin's father in Batman Returns (where Danny DeVito played the famous Batman villain) which makes this casting a lot more fun. Just like executive producer John Stephens said in our exclusive interview a couple of weeks ago, I could totally see Taylor and Reubens actually be related in real life. The similarities are almost scary because of how much they look like each other. Heck, whenever Elijah would talk, unless I wasn't looking, it could have easily been Taylor that was talking.
Their first meeting was also heartbreaking because of the fact that he learned that he had a father in front of his mother's tombstone. But because this is Gotham, I can't help, but suspect that maybe Elijah isn't all that good and that he has something in mind. That is almost depressing when you think about it for the fact that in Gotham City, so little can be trusted. The scene at the end with Oswald being welcomed into the family got me curious, especially because of the sudden appearance of Melinda Clarke, who I had completely forgotten was going to guest on this show. I just hope Oswald doesn't get his heart broken too hard because something tells me that his relationship with his father will somehow take him back to that dark place.
Speaking of dark places, Nygma took his craziness to a new level as he continues with his plan on getting Gordon out of his way. Since this is episode 15, it was only a matter of time till we got Nygma to start setting off a lot of trouble for Gordon. So not only is Barnes holding Gordon responsible for Theo's death (or "death" at this point), but also the death of that cop that Nygma took care off: the man can't catch a break. I don't know why I got so surprised that this part happened, but the minute Barbara woke up from her coma, I gave the biggest "SAY WHAT" noise ever. While Gordon's arc hasn't been the most interesting one since they came back from the hiatus, this episode helped it make more compelling as he faces this new obstacle.
While I will never say 100% if I would ever want a spin-off from this show, but if I do, it would totally be a Selina and Bruce one. Whenever these two get to share the screen together and go on adventures together that brings them closer to their respective destinies, it's a blast. While it was a lot to take in seeing Bruce getting beaten down over and over, as a Batman fan, I know what stuff like that will do for his journey.
Overall, this was another solid episode where a lot of moving pieces went forward and it continues to make this second half of the season a lot stronger and enjoyable. The only thing that I'm curious to see at this point is how Butch and Tabitha play into anything that is happening right now on this show.
Gotham airs on Monday nights, 8/7c on FOX.
[Photo: Nicole Rivelli/FOX]
Summary
Penguin meets his father for the first time while Nygma gets Gordon in major trouble in this week's strong episode of Gotham.