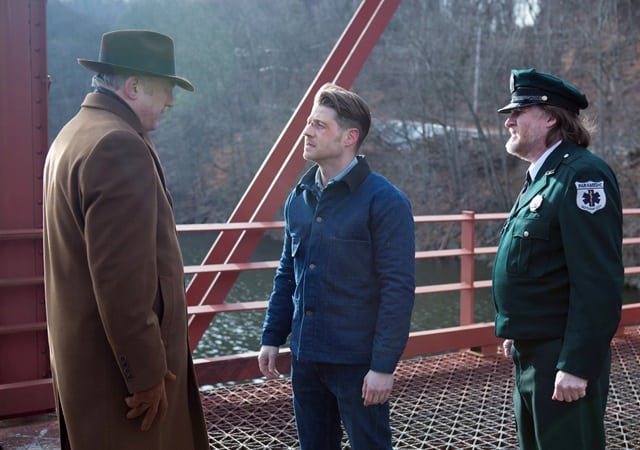 After all the craziness that took place last week, this week's Gotham picks up right where we left off as Gordon is put through hell in jail while Oswald gets closer to his father whose family isn't fond of the newest member in their family.
While it hasn't been a huge problem in the past few weeks, these recent episodes have been juggling with a lot of storylines week after week. It was nice for a change that "Prisoners" didn't focus on too many plots this week and only focused on Gordon's arc as well as Oswald's family because sometimes, it can get too much. This will sound really weird because of the circumstances, but this was actually one of my more favorite Gordon episodes. It's hard to describe what it was, but something about Gordon's broken soul just made it very powerful and how he had to find a way to get that spirit back.
I was surprised that out of all the people that Bullock turned to for help, that it was Falcone, one of my absolute favorite characters of Season 1. Although at the same time, if anyone would be able to get Gordon out of jail, it would be Falcone as he has his connections in Gotham City. The best scene for Gordon was at the very end as his jail-buddy Puck passes away after a brutal beating and becomes the reminder for Gordon why he can't leave Gotham. That was in the end one of the reasons why I thought this was such a great Gordon centric episode.
Maybe I was the only one who saw the connections and similarities, but Oswald's new family drama, had a Cinderella vibe to it with Melinda Clarke's character and the two siblings pretty much acting as the stepmother and evil step-siblings. Although the brother and sister didn't really do much for me as they felt sort of generic-evil and didn't stand out much. I was intrigued by Grace and her concern with Elijah letting a criminal live in their house. The biggest problem with this though was that the writers couldn't let at least one or two episodes go by without having to get Elijah killed.
I wanted to see Oswald get to be happy for at least a week or two before his dad's inevitable exit, whether it would be him dying or revealing to Oswald that he has a dark side. Plus let's just agree that it was a blast seeing Reubens and Taylor having scenes together and now it's already over. I get that Oswald is a villain so therefore, no happy endings for the bad guys, but this version of Oswald does deserve some of that, before he truly and permanently becomes The Penguin that Batman will fight one day.
Overall, despite my issue with how fast they ended the Cobblepot reunion, "Prisoners" was a solid episode. It gave both Oswald and Gordon a lot of screentime as they have sort of taken a backseat since Hugo Strange and Mr. Freeze's introductions in the past few weeks.
Gotham returns with new episodes on Monday, April 11, 8/7c on FOX.
[Photo: FOX]
Summary
Gordon goes through hell in jail while Oswald's new family tries to get the new member out of the picture in this week's Gotham.