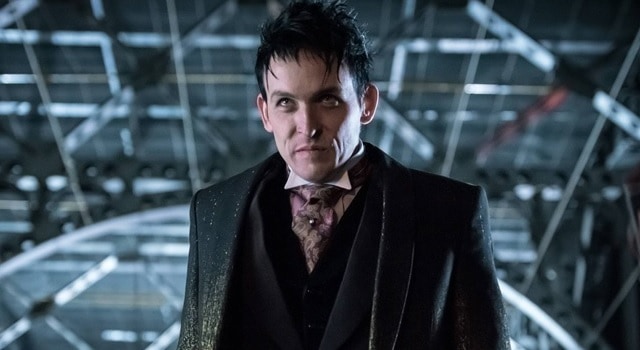 Gotham has had quite an interesting second year for it and thankfully in many good ways as the season finale concluded the "Wraith of the Villains" saga in a twisty, crazy, hilarious and delicious way that I wasn't prepared for.
I can only imagine how much fun Ben McKenzie must have had shooting this particular episode of Gotham as he not only played regular Gordon, but also as the Clayface-Gordon. They could have honestly done a whole episode with just McKenzie and two-three other actors in it that would just have to interact with Clayface as the comedy would write itself. I will actually give the other characters a pass for not picking up earlier on the fact that this wasn't even remotely close to who Gordon is.
I do think Bullock had a sense right away that "Gordon" didn't have the flu, but was just having fun with seeing the imposter making a fool out of himself minute by minute. Of course it had to be Barbara, who can apparently just walk into GCPD without any raising eye brows from any of the officers, who discovered that something was horribly wrong. The Clay-effect was an improvement from last week which made me satisfied because if you are going to do Clayface in live-action, you got to have to do it right with the proper visuals.
Several times in the past few weeks, B.D. Wong has continued to be one of the major highlights of the season as Hugo Strange has been a wicked villain to play with and he didn't disappoint in this finale. Although knowing that this was the finale, it was obvious that he was going to have a very, very bad day and boy, you could see it on his face big time. It was almost devastating to see Hugo having the worst day ever, putting a whole new definition in "Monday's are the worst". It didn't help that he was being given some serious hate by the Owl Lady, who we will talk about at the end.
The thing that had me quite curious was how Hugo supposedly and literally took away all of Gordon's guilt during the truth serum scene. That was the only aspect that felt forced because it shouldn't be that easy. The episode ends with Gordon leaving the fight to Bullock and the GCPD because he wanted to find Leslie and it just felt unnatural. I'm all for characters overcoming inner struggle, but not when it hasn't been earned and Hugo just taking all that away so easily (because he had planned for Gordon to die that night) didn't sit well with me. Even though it has been an ongoing inner battle for Gordon with everything that has happened, this isn't how I pictured the writers concluding that for him.
The only downside of "Transference" was the fact that there weren't really any big stakes because you know that characters like Hugo, Nygma, Mr. Freeze or Firefly would be killed off or anything like that. You knew also that there was a very little chance to nothing that they would actually have blown up Arkham Asylum, although even if they had, it could simply have been rebuild so that it's around in the future for Batman taking in all his baddies. Although it didn't take down the quality of the finale by any means, but it was something that had to be brought up.
However, I was surprised that we had so little of Fish Mooney in the episode, but every scene she was in, was definitely not wasted. I can't remember the last time when I laughed at a "Yo Mama!" joke, but Fish had me floored when she tried to diss Peabody's mom. I think that moment is tied with her scene with Oswald whose face was priceless when he saw Fish in front of him. I don't know what the writers plans are for Fish in Season 3, but just like Mr. Freeze and Firefly, they have left the doors open quite well and I'm pretty sure Fish will play into the third season in more ways than one.
The ending was one of the best endings of all time because just when you thought that Gotham couldn't get any crazier, they just do it. All the Indian Hill monsters and subjects are released out of the bus by a poor homeless woman, who thankfully made it out alive, and we get glimpses of these creatures. I still haven't picked up my jaw after hearing that Joker-ish laugh which means only one thing: Jerome has been resurrected which wasn't too much of a surprise since we knew his body had been taken to Indian Hill all those episodes ago. But it was still mind-blowing to hear that laugh again and know that we might see Jerome again which I'm all game for. Oh and there is a Bruce Wayne clone walking around because why the hell not? David Mazouz is going to have a lot of fun in Season 3 playing two versions of him and that will be fun to watch.
Now how does this connect to the Owl Lady? We had heard early on that Gotham would eventually be introducing the Court of Owls and John Stephens (executive producer and writer of Gotham) teased in our interview with him this year that they would be laying the groundwork for it this season. Well folks, these past few weeks has done exactly that and while it has yet to be announced: I think the finale pretty much confirmed that the big bad for Season 3 will be the Court of Owls as Bruce now knows that there is a secret council that he has to look out for. I think they as well as these monsters will be what our heroes will have to deal with next year and that I look forward to.
Overall, "Transference" was a really satisfying and solid season finale that shows that Gotham has learned from its first season and taken the opportunity to do major improvements. While it has its flaws, what show doesn't? The show succeeded in finding itself a lot this year and while it does pretty much stand as an Elseworld-take on the Batman mythology, it knows what it is and embraces it which deserves praise big time. Hopefully San Diego Comic-Con will give us some good peaks into what is to come!
Gotham, which has been renewed for Season 3, will be back this fall on Monday nights at 8/7c on FOX.
[Photo: FOX]
Summary
Jim Gordon, Lucius Fox and Bruce Wayne take on Hugo Strange once and for all in the stellar season two finale of Gotham.