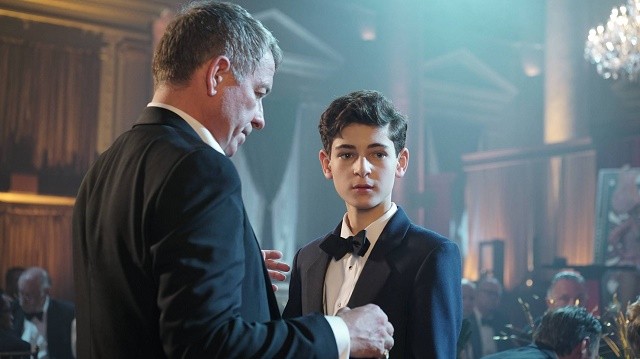 As speculated last week, this week's episode of Gotham pulled the one thing that this reviewer was hoping would not happen while also having a chillingly good ending.
This was the prominent Jerome episode that was setup after last week when he killed Commissioner Essen, and Gordon did everything in his power last night to stop the laughing murderer. I will say this right of the gate: anything that had nothing to do with the A-plot of the story didn't interest me at all, even if it was pretty sweet seeing Bullock as his sassy self with the Penguin. It just didn't feel necessary here because of what ended up happening in the end.
The charity event made this episode, despite its end results, one of the more enjoyable hours of the whole series. First off, Alfred hitting on Leslie? I mean, when is the last time we saw any version of Alfred get a crush for someone? It was adorable, although I thought Alfred already knew that Gordon and her were a thing (but hey, it's Alfred). Once Jerome came to play, it all became so much fun, even though it was suspenseful minute by minute because with someone like him, you never know what he will do, along with Barbara who was disguised as Jerome's magic assistant.
So, as I mentioned above, the thing I didn't want to happen did happpen and in the most frustrating way ever. Theo's master plan was to make Jerome, who had taken Bruce hostage (as well as the whole event), the baddie while he put on a disguise as a hero trying to save the day. But as things got crazier, the hostage situation ended with Theo stabbing Jerome in the neck, killing him. It was hard being devastated, because the final scene featuring several people watching Jerome's actions on TV and starting to have mental breakdowns with their own haunting laughs was just too good to hate.
It's really a shame that the show couldn't have made Jerome The Joker of this incarnation, especially with such a talented actor like Cameron Monaghan. The issue with this is also that as Gotham is still taking its time to grow and improve, the series is also losing the already established good characters that it had likeEssen and now Jerome. I get the whole purpose and how appealing it can be to have The Joker be an ideology rather than one singular person, as the showrunners have been talking about in interviews. However, this is a show that is still trying to figure out how to work as we have seen since the first season that its concept is necessarily not that easy for viewers to connect to.
We are only three episodes into Gotham Season 2, and we already we have lost one of the best villains of this "Rise of the Villains" arc. Furthermore, Theo's way of being a big bad isn't refreshing, even though he is meant to be revealed as a specific big DC villain sometime down the line. We also have now an unnecessary triangle between Barbara, Theo, and his sister Tabitha, so the villain dynamic lost a lot of quality with the death of Jerome and that makes me concerned for how the rest of the season, with 19 more episodes to go, will feel.
Gotham airs on Monday nights at 8/7c on FOX.
[Photo credit: Nicole Rivelli/FOX]