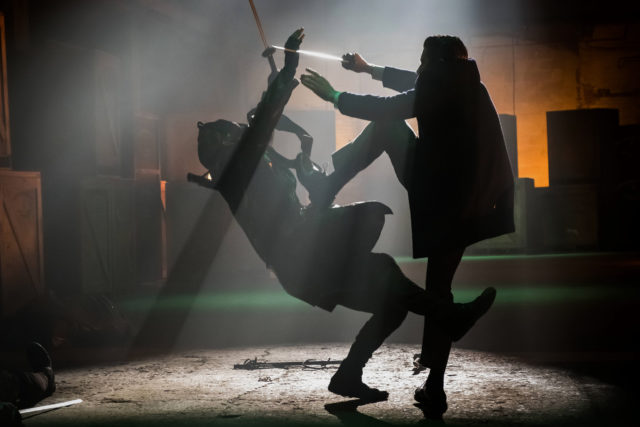 Pure, unadulterated chaos. That seems to best describe the state of Gotham City when the season finale of Gotham begins. As the Tetch virus is released en masse on the city, all of the arisen villains from the past few seasons are attempting to capitalize on the madness that ensues. In the words of the illustrious future Commissioner James Gordon (or rather, his actor Ben McKenzie), this episode of Gotham was "B-A-N-A-N-A-S".
Normally I'd insert a recap here of the episode's events. Frankly, there was much too much content to address in that way. One, there are way too many spoilers, and two, the driving force behind the episode wasn't really "what happened" so much as unearthing the emotional driving force behind said actions. If you want a brief recap: Gotham fell, people died, and each character took a large stride toward the familiar Batman characters we know and love.
As per usual, Gotham is at its absolute best when it embraces the action-packed, far-fetched nature of the show. The finale was the culmination of all of the show's strengths, while adding an emotional layer. Perhaps one of the best scenes was the prisoner exchange gone wrong, which turned into a shootout at the OK corral. Every minute of this episode was exciting, largely due to these well-executed battles. But what really added that extra punch was the emotional undertones that this episode possessed.
My favorite part of the two-hour episode(s) was the range of emotions displayed in each of the characters. First, there were multiple tear-jerking scenes between Bruce and Alfred. As Bruce turned his back and then (spoilers) his sword on his long-time caretaker. David Mazouz, a marvelous young actor, handled this adult material beautifully. His awakening when he stabbed Alfred and his subsequent regret were particularly powerful. Sean Pertwee gave a masterful and subtle performance as Alfred in maybe his best episode yet. I'm so glad that (more spoilers) his death didn't stick. First of all, what is the Batman saga without Alfred? Second, what is this show without Sean Pertwee? Pretty close to the same answer: nothing.
Of course, Bruce and Alfred's cathartic, emotional climaxes were only some of the best on this episode. Jim and Lee, Jim and Harvey, Nygma and Penguin, The Butch/Tabitha/Barbara trio, and even Bruce and Selina had some marvelous face-offs, with some happy and not happy endings following suit. Ultimately, this finale proved that Gotham is about its characters and their ups and downs, and that the characters are the best part of this show, whether they follow comics canon or not (I've never understood why people care so much about that).
I have one quibble with the way that this episode was executed. If you haven't watched, look away, but (spoilers) Jada Pinkett Smith returns as Fish Mooney, only to be killed off in the first hour. It was exciting to see her again in the past few episodes, and to see her reunite with Oswald, Butch, and Harvey in succession. When Tetch virus infected Gordon ran her through with a sword, she all but spelled out for a grieving Penguin that she would not be revived by Hugo Strange. While I applaud this as a creative decision (it's been fun, but dead should stay dead after 2 deaths or more), I'm not sure there was a need to be so flagrant about Fish's return just to save Oswald's butt one time and get the band of freaks together before she croaks. It bothered me that this happened, but again, I'm glad that it seems the death will stick this time.
Speaking of deaths that will not (or already didn't) stick (spoilers abound). I believe it is safe to say that Butch (AKA DC Comics Character Cyrus Gold) will grace our screens again in the near future. I also can't believe that we've seen the last of Barbara Keen. Maybe I'm just not letting myself believe that one because of my undying love for Erin Richards and her fabulous Babs. Alfred, of course, ended up surviving the episode. I will be extremely curious about the Season 4 cast of Gotham, which I expect there will be news about in the next few weeks before they head back to work.
My "a few other thoughts" section evolved mostly into great quotes from Harvey Bullock.  Because I love Bullock and Donal Logue's portrayal of him, I'm just going to roll with it:
"Just don't shoot any innocent bystanders. Or me. Especially me."
"You know, one of these days I'm going to say never"
"What? You've never seen a mason jar filled with blood before?"
"You're the best cop I ever worked with, and the best friend I ever had" (Tears after this one, folks).
With exception to my one little quibble, the finale of Gotham proved to be a launching point toward the Batman story. It was emotional, it was action-packed and intense, and left little to be desired. I'm already excited for the show to premiere in the fall.
What did you guys think? Did you enjoy the episode? Let us know in the comments!
Gotham returns to FOX in Fall 2017
Gotham Season 3 Episodes 21 & 22 Review: "Heroes Rise: Destiny Calling" "Heroes Rise: HeavyDirtySoul"
Summary
Gordon fights the virus as he and Bullock rush to cure the infected patients, including Lee, and Bruce accepts his destiny on the season three finale of Gotham.