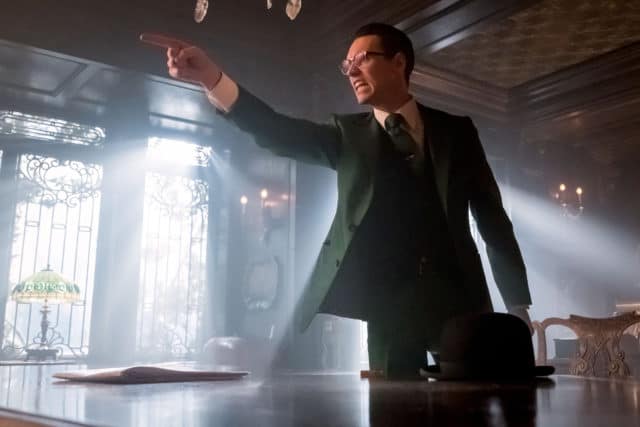 It's been a long wait, friends, but Gotham has finally returned to our televisions. They left us back in January on several huge cliff-hangers but now a few of them are resolved, as they continue to race toward the era of Gotham City that we know as "Batman". Villains are becoming who they're meant to be, and the younglings are maturing right before our eyes. Based on this episode, it's going to continue to be an exciting ride. Spoilers abound below, so use caution.
This week on Gotham: When Nygma shot Oswald (Penguin), he killed a part of his soul. So, Nygma spends his time taking drugs and trying to figure out who he is without Penguin around. Amidst this search, Nygma kills people and develops a strange connection to Lucius Fox. Bullock and Fox try to stop the next forecasted attack. Bruce deals with his falling out with Selena. Jim's uncle, Frank, meets with him on behalf of the Court of Owls. Oswald Cobblepot's fate is revealed.
Let's be honest, we all knew that Cobblepot was going to survive. Still, it was an interesting way that they used that shooting as a symbol of Nygma killing that part of himself and solidifying himself as "The Riddler". It was a really interesting storytelling medium, and Nygma's journey was pretty exciting. Cory Michael Smith has done a phenomenal job creating and developing this character in front of millions each week.
The show is definitely missing something when Jim is not a part of the central plot. This Court of Owls stuff, I assume, is just going to be setting him up for some payoff down the line, but adding James Remar to the cast was smart no matter what. That said, the Bullock/Fox partnership really worked out well in this episode, and Nygma turning to Fox because Gordon wasn't available was even better. Finally, they've found a good way to utilize Chris Chalk, who is phenomenal in his role.
I think the big takeaway from this episode is that Gotham is speeding up as they move toward becoming a Batman story. We knew Bruce was training, but we got to see him take those guys out on the street. If Jim joins the Court of Owls and the Captain's seat is still open, Gordon will be well on his way to becoming Commissioner. Then, of course, we've been calling Cobblepot "The Penguin" since Season 1, but now Nygma has completed his transformation into the Riddler. Which can only be amazing for viewers and terrible for the city of Gotham. I'm not sure how or why the story is starting to move faster like this, but I'm not mad about it. If I had to guess, I'd say they're speeding it up out of fear of cancellation.
Here are a few other thoughts:
Not that I'd ever question James Remar in my life, but I can't figure out if Jim's uncle is working an angle with Jim, or with the Court. My money is on his betrayal of Jim.
"You getting bored down in the lab, Lucius?" "Yes, but that's not why you should take a look at this"- My new favorite odd couple
Is there any significance to Ivy being the one to rescue Oswald? Just thought it was an odd choice, but you never can tell these days.
Prediction for the next few episodes: Alfred identifies phony Bruce using that same story about an old girlfriend.
In case you missed it, the Spring 2017 sub-title (previously Rise of the Villains/Mad City/etc.) is "Heroes Rise".
Also, I wanted to add kudos to David Mazouz. I never pictured him becoming Batman until he whooped those thugs in this episode.
Overall, this premiere episode was tight, focused, and immediately addressed some of the cliff-hangers from the "winter finale"in January. More than anything, it has sparked my curiosity about what's to come, but all told it was wonderful having Gotham back on my screen.
What did you guys think? Did you enjoy it? Are you excited it's back? Let us know in the comments!
Gotham airs Mondays at 8/7c on FOX
Save
Gotham Season 3 Episode 15 Review: "Heroes Rise: How the Riddler Got His Name"
Summary
Nygma slowly turns into the Riddler after "killing" Oswald on this week's strong spring premiere of Gotham.