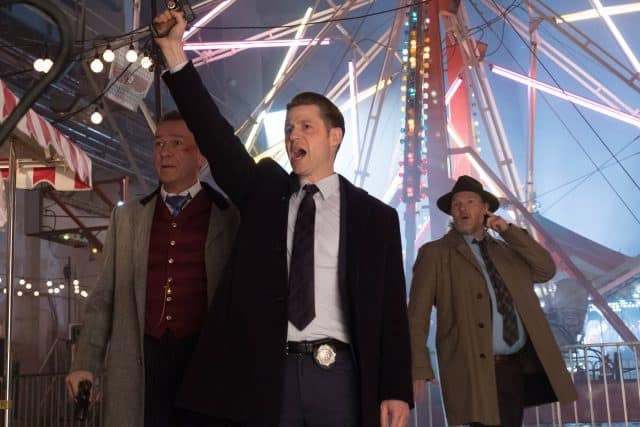 Whew! This one was a doozy! When it wants to, Gotham does a great job of getting the blood flowing and heart pounding during an episode. This episode paid off stories that have been with us for awhile, and even built in a fantastic treat for longtime Batman fans. I, for one, enjoyed the crap out of it.
This week on Gotham: The conflict between Oswald and Ed comes to a head when Ed reaches the end of his plan for revenge. Meanwhile, Jerome has cut the power in Gotham City and gone after Bruce, so Jim, Harvey, and Alfred must hunt Jerome down before Bruce is publicly killed.
This episode was Gotham at its absolute best. Jim, Harvey, and Alfred did some serious butt kicking, villains were left to their villainous ways, and the stakes had never been higher. The future all-star villain roster of The Joker, The Riddler, and The Penguin all took center stage, and everything that Gotham does well (Selina was conspicuously absent) was on display. Needless to say this was one of my favorite episodes of the season so far. After the break, there are only 8 more, but it will be hard for them to top this.
Gotham has always done villains well, so it's no surprise that the Cobblepot/Nygma conflict came to head and did so masterfully. Cory Michael Smith and Robin Lord Taylor have been doing some of the best work on this show since day one, so I'm really not surprised, but still impressed. I could have predicted that Oswald being rescued and taken by Butch and company was part of Ed's plan, but the end was nothing short of shocking when (Spoilers ahead) Ed goes through with shooting Oswald. You know that Oswald isn't going to stay dead, even though he was shot by Ed AND fell in the water. But how does he get back? Does he die and get revived? There are some fun possibilities there. As a Batman fan, you never think they're going to go through with killing a future Batman nemesis, and yet they're constantly dying.
Speaking of Batman, the best, coolest Easter Egg for Gotham and Batman fans alike came in the form of a fist fight between Jerome (The Joker) and Bruce (Batman). There's never been as much foreshadowing as there was this week for Bruce becoming Batman. You wonder, since Superman has appeared on Supergirl recently, how far away we really are from seeing David Mazouz suit up for the first time. I knew that Alfred had been training Bruce, but this was the first time that it came into play. And it was awesome.
Here are a few other thoughts:
Other Batman foreshadowing moments include: "Gotham has no heroes" and the conversation with Alfred about having rules.
"At least you can say you punched a man's face off!" I love Harvey Bullock. So much.
This episode was the first in which Jim and Lee were able to push past that awful barrier and work together on something. I appreciated it much more than open conflict.
If we had to go into hiatus (do we HAVE to? *sad face*) this was the way to go. Gotham has proved time and time again that it knows how to excite an audience, this episode was no exception.
What did you guys think? Did you enjoy the episode? Let us know in the comments!
Gotham airs Mondays at 8/7 on FOX
Gotham Season 3 Episode 14 Review: "Mad City: The Gentle Art of Making Enemies"
Summary
Jerome takes Bruce, intent on killing him, and Jim, Harvey, and Alfred must stop him on this week's excellent winter finale of Gotham.