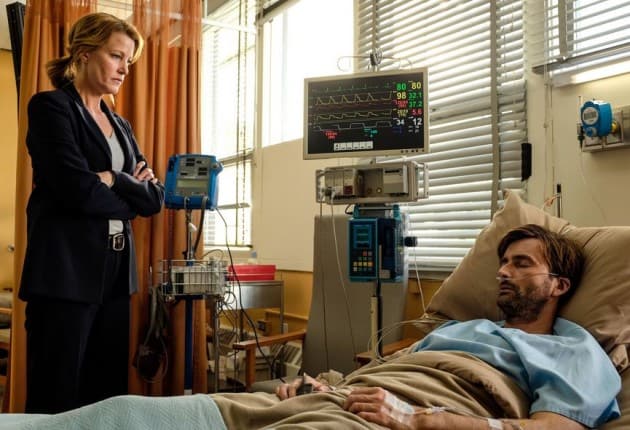 It's hard to believe that fall is almost over, but we're reaching the midseason break point, which brings with it the penultimate episode of Gracepoint. The mystery is rushing to a close and the town is reaching it's breaking point. Things are as tense as ever, but it makes for great drama!
Wow. The dramatic climax of Gracepoint came and color me impressed. I kept trying to take notes but the screen commanded my attention. The dramatic elements have never been more compelling, and I'm extremely interested in how all this turned out. All of the creepiest suspects are coming into the light.
First of all, I LOVED the scenes with Susan Wright. I mean, to get to this point, they had to make the cops willfully ignore an incredibly creepy, suspicious character, which I didn't "love", but the scenes with her in them, and the reveal of her background  story was jaw-droppingly dramatic. Jacki Weaver has done an excellent job throughout the run of the show, and that really showed in this episode. Stephen Louis Grush, who plays Vince, really stepped it up a notch in this episode as well. I wasn't always impressed with his work, but I was after this week. Of course, they also played into my prediction that we'd suspect them constantly until the end of the series, and then our attention would finally be diverted by new revelations about the longstanding suspicions. I appear to be correct on that front. I might not. I honestly don't know. What a great mystery!! Of course, it can't be Vince because we know that the "huge twist" is still to come!
I'm really glad they revealed what's going on with Carver, too. In an age where no show can go half a season without a cliff-hanger of some kind, Gracepoint, in its limited run, is a refreshing change of pace. I am confident that after next week's finale, that nothing will remain up in the air. The reveal about Carver's past proves that to us. The answer to his being a single father and what happened all came together in one fell swoop. I was thoroughly impressed by the way they worked it into the show, and I'm also glad that it's not going to be distracting from the final reveal.
David Tennant and Anna Gunn have just been brilliant. They've showed real growth and strength in every episode, and I couldn't be happier that they were chosen for this. David Tennant has a real gravitas that he brings to the role of Carver, and Ellie has evolved throughout the show but you can tell that she hasn't yet lost the core of who she is. I'm also curious as to whether or not the remaining information concerning Tom will change her by the end.
I've spent many a week raving about Kevin Rankin's performance and this is no exception. He turned in another great, GREAT episode as Paul Coates. I was relatively suspicious of Vince, but I'm actually pretty suspicious of Tom and the Reverend again. Do you guys think Paul hit Danny on that trip? I honestly have no clue.
Only one week left! What are your predictions for how it turns out? Let us know!
Photo via FOX