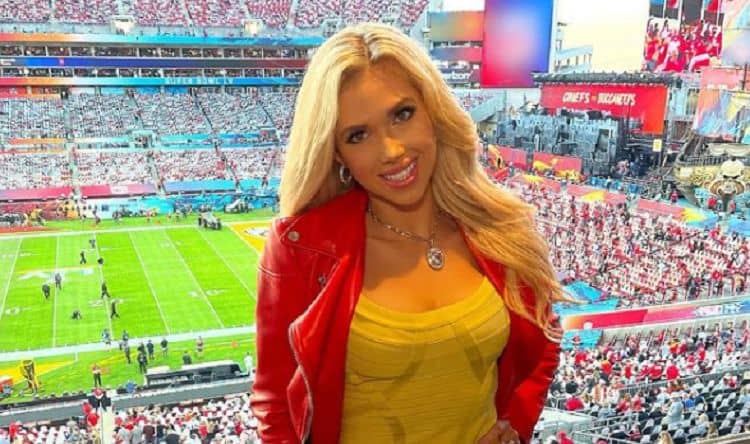 Gracie Hunt may not be a football player, but she's spent more time around the game than some people who have spent years playing it. As the daughter of Kansas City Chiefs owner, Clark Hunt, Gracie is the heir to a real football fortune.While some people may think her looks are the only thing she has to offer, that isn't true at all. Gracie is smart, talented, and hard working and one day she'll be ready to head the organization. Although her team wasn't able to bring victory home during the 2021 Super Bowl, Gracie is staying positive and she's ready to see what the team is capable of in the future. Keep reading to learn 10 things you didn't know about Gracie Hunt.
1. She Grew Up Playing Soccer
Not only has Gracie been a sports fan for her entire life, but she also spent many years as a competitive athlete. She grew up playing soccer and won a state championship during her high school career. She also played D1 club soccer in college. Unfortunately, however, concussions forced her to leave the sport behind. While she may no longer play competitively, Abby still likes to stay as active as she can.
2. She Was A Pageant Queen
Gracie may be young, but she's already accomplished lots of cool things. In 2018, she was crowned Miss Texas International and she even made a run for the Miss International pageant. It's unclear whether or not she ever competition in the Miss International pageant.
3. Her Faith Is Important To Her
Gracie comes from a close-knit Christian family and her faith continues to play a major role in everything she does. In an interview with Her Campus Gracie said, "What keeps me grounded first and foremost is my faith and my relationship with Jesus Christ…"
4. She Loves Giving Back To Others
With a father who is the CEO of an NFL team, Gracie has been very fortunate in life. She's had a lot of opportunities that some people can't even imagine and she wants to use all of her resources to help people in need. She is very passionate about doing work to uplift and support people in the community.
5. She Is A Blogger
Gracie loves sharing her thoughts and opinions with the world and the internet has given her the perfect way to do that. On top of social media, Gracie also runs a blog called Living Gracefully. Her content focuses on lifestyle and health and fitness related topics. Gracie also has a YouTube channel with the same name, but she hasn't uploaded any new content in two years.
6. She Attended Southern Methodist University
Finishing college in the middle of a pandemic certainly wasn't easy for Abby or countless other students, but she managed to make it through. She graduated from Southern Methodist University with a degree in journalism and and the future is looking very bright for her.
7. Family Is Important To Her
When you come from a wealthy background it can be very easy to lose touch with the simple things, but Gracie has never allowed herself to do that. In addition to her faith, her family has been one of the most important things in her life and she has an especially close relationship with her mother.
8. She Was Nicknamed After A Character From The Beverly Hillbillies 
When Gracie was younger, she earned the nickname Elly May Clampett from the TV series The Beverly Hillbillies. Gracie was given the name because of her tremendous love for animals. She is still a devoted animal lover and a proud dog mom. She has an adorable golden retiever named Chief. On top of making frequent appearances on Gracie's Instagram, Chief also has his own account.
9. She Is A Very Adventurous Person
Gracie has never been afraid to take risks and her adventurous nature is a very big part of who she is. She loves trying new things and she never backs down from a challenge. In addition to enjoying things like traveling, Gracie also likes to spend a lot of time outdoors. Some of her favorite activities include cycling and hunting.
10. She's An Ambassador For The Special Olympics
The Special Olympics is something that will always be near and dear to Gracie's heart. She as introduced to the organization several years ago when she became a member of the FC Dallas Special Olympics soccer team. Gracie enjoyed the chance to connect with her teammates through sports and she eventually decided to become an ambassador for the Special Olympics.