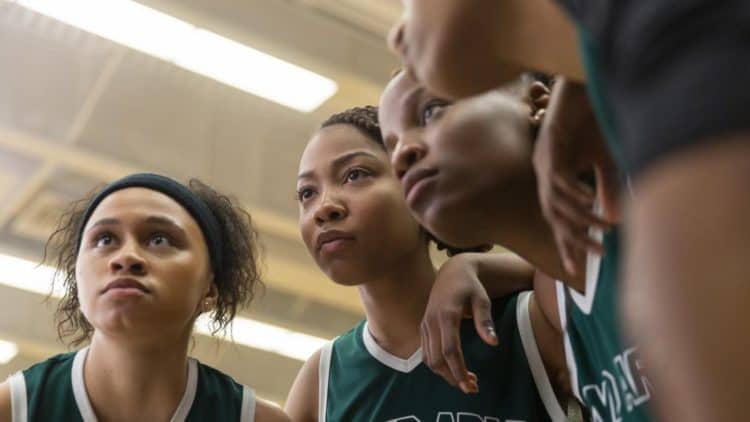 If you're a drama fan and you've been looking for something new and binge worthy to watch, Netflix's new drama series, Grand Army could be just what you're looking for. The show follows a group of teenagers living in Brooklyn who are trying to balance high school along with the realities of their outside worlds. Grand Army provides an interesting look into the life of modern teenagers while also touching on some very sensitive — but very real — subjects. The series also features a stellar cast of young actors who helped bring the characters' stories to life with poise and professionalism. Keep reading for 10 things you didn't know about Grand Army.
1. Grand Army High School Is Fictional
All of the students on the show attend Grand Army High School in Brooklyn. By now, there have probably been countless people who have attempted to get more information on the school, but they won't be able to find much because Grand Army High School doesn't actually exist. Vanity Fair suggests that the school may be based on Brooklyn Technical High School.
2. It's Loosely Based On A Play
Grand Army was created by playwright Katie Cappiello who wrote the 2013 play, SLUT. The play focused primarily on Joey Del Marco and the story of her sexual assault. Many of the additional storylines in Grand Army were created specifically for the show. Amalia Yoo who played Leila was the only actor to be in the show and the play.
3. The Show Has Been Compared To Degrassi
The Degrassi franchise is arguably one of the most popular high school based drama series to ever hit TV. Due to its similar subject matter, Grand Army is already being compared to the long running Canadian series. Ironically, one of the show's stars Amir Bageria (Sid) was also in Degrassi.
4. There Hasn't Been An Announcement About Season Two
Season one of Grand Army was released on October 16, 2020 and many fans are already hoping there will be a season two. Unfortunately, there haven't been any official announcements regarding the show's renewal but many believe that it's looking promising.
5. The Show Was Partially Filmed In Canada
Grand Army is set in Brooklyn, and people who are familiar with the area will notice that much of the filming took place there as well. However, Brooklyn wasn't the only place where scenes for the show were captured. According to The Cinemaholic, some filming also happened in Ontario, Canada.
6. The Show Has Been In Development For Nearly 20 Years
It's no secret that TV shows can take a long time to develop, but Grand Army has been in the works for an especially long time. Katie Cappiello told Entertainment Weekly, "I've spent 18 years of my life, making this project." In fact, the terrorist attack depicted in the first episode of the series was in reference to the attacks on September 11, 2001.
7. There Was Originally Supposed To Be 10 Episodes
The COVID-19 pandemic has altered production of shows all across the entertainment industry and it looks like Grand Army may be one of the shows that has been effective. Season one of the show was originally ordered for 10 episodes, however, the season only ended up being nine episodes.
8. Several Writers Quite Over Allegations Of Racism
Even before its premiere, Grand Army was already in the center of some pretty intense controversy. In June 2020, one of the show's writer's, Ming Peiffer accused Katie Cappiello of being racist. In a tweet, Mind said, "If this is so I would suggest don't air the upcoming show "Grand Army" created by Katie Capiello + Josh Donen. All 3 writers of color including a Black writer quit due to racist abuse. Katie called HR on the Black writer for getting a haircut bc it "made her feel uncomfortable". She published another tweet in September saying, "Me and the 3 writers of color who worked on the show quit due to racist exploitation and abuse. The show runner and creator went full Karen and called Netflix hr on the Black writer in the room for getting a haircut. Yes you read that correctly. "
9. The Show May Be Too Dark For Some People
Even though Grand Army is already getting lots of positive reviews, the truth is that the subject matter of the show may be a little too dark for some people. Too put it simply, if you're looking for something light and fun to watch, this probably isn't the show for you. The characters on Grand Army deal with lots of serious issues such as sexual assault, poverty, and racism.
10. The Show Was Filmed Around 2018
Not only has the idea for the show been in development for almost two decades, but it looks like the production process has also been going on for about two years. Based on one of Ming Peiffer's tweets, it seems that the show was filmed sometime in or around 2018.