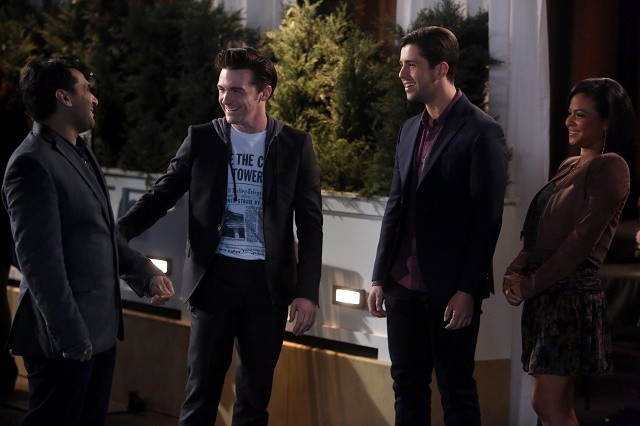 If you were a fan of the Nickelodeon show Drake & Josh and wished that Drake Bell and Josh Peck could reunite, then be sure to tune in to tonight's episode of Grandfathered. The all-new installment, titled "The Biter," will have the former co-stars sharing the screen again as Bell guest stars as Kirk, a flashy tech investor that meets with Gerald and Vanessa.
However, while the characters of Drake and Josh always got along with each other pretty well on the Nickelodeon series, that may not be the case for Kirk and Gerald. As show in the sneak peek below, Kirk appears to be arrogant and self-centered, as he makes fun of Ravi and barely even registers who Gerald is. Something tells me that there's going to be more than a little drama during his meeting with Gerald and Vanessa.
Meanwhile, as Gerald and Vanessa meet with Kirk, Jimmy and Sara visit Edie's school to deal with a major issue: one of Edie's classmates bit her. How will the two grandparents handle the situation? If the clip below is any indication, not too well.
Grandfathered airs Tuesdays at 8:30 p.m. on FOX. Check out the network's official description of tonight's episode below:
When Edie is bitten at school, Jimmy and Sara go to great lengths to find out who did it.  Meanwhile, Ravi sets up a meeting for Gerald and Vanessa to meet a flashy tech investor named Kirk (Drake Bell), but once they meet him, they are not so sure they'd like to do business with him.
[Photo credit:Â Jordin Althaus/FOX]