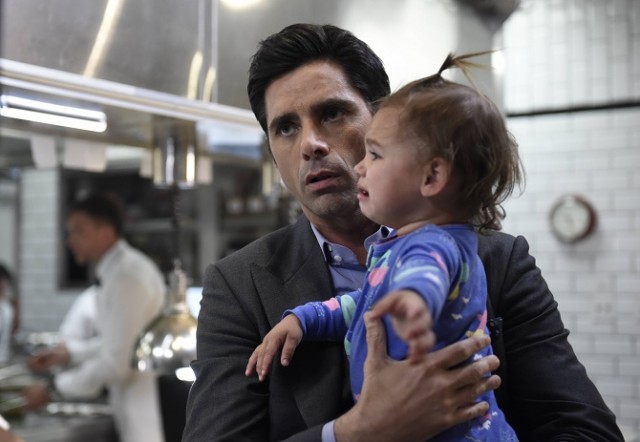 John Stamos and Rob Lowe helped FOX garner decent ratings on Tuesday night with the premieres of their new shows Grandfathered and The Grinder. As part of the network's new Tuesday comedy block, Grandfathered outdrew The Grinder in total audience, with 5.3 million viewers versus 4.9 million, but both sitcoms did the same in the oh-so-important 18-49 demo, each netting a 1.5 rating.
Compared to last year's disastrous Utopia (2 million viewers/0.8 rating), Grandfathered and The Grinder are big improvements for FOX. Additionally, both comedies performed better than the most recent finales of New Girl and The Mindy Project, which had anchored FOX's nine o'clock hour together for the past three years (New Girl will return at midseason, while Mindy was cancelled by FOX and picked up by Hulu). Following the okay starts that both Grandfathered and The Grinder had, Scream Queens nabbed 3.6 million viewers and 1.4 demo rating, down 10 and and 18 percent from its two-hour premiere last week.
Also dropping in the ratings after its rather successful series launch was ABC's The Muppets, which was watched by 5.8 million people and had a 2.0 rating, down 30 percent from last week's premiere. However, those numbers didn't stop Agents of S.H.I.E.L.D. from improving upon its Season 2 finale ratings. While the Marvel series was down from its Season 2 premiere (6 million/2.1), the show's third season opened to 4.8 million viewers and 1.7 demo rating, up almost a million in total viewers and eight-tenths in the demo from its last episode in May (reportedly, these are S.H.I.E.L.D.'s best numbers since Season 2's winter finale, which aired last December).
Lastly, Limitless was the only new Tuesday show to retain its audience. The CBS procedural's numbers were steady with the ratings for its premiere, as it drew 9.6 million viewers and a 1.9 rating.
[Photo credit: Erica Parise/FOX]