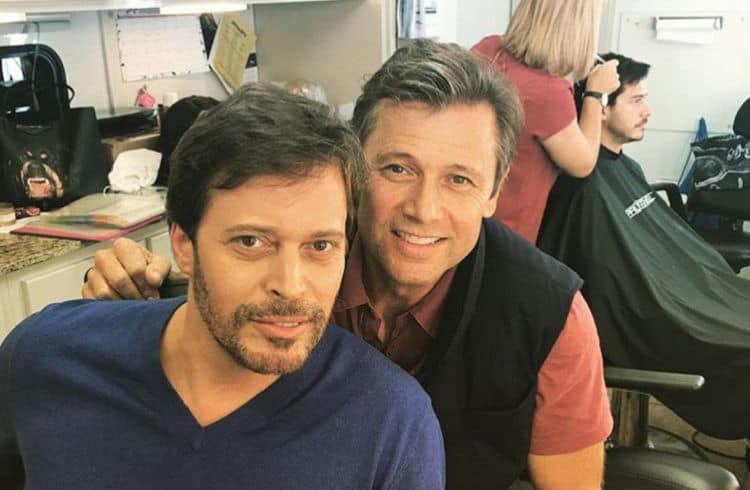 For some reason the decade of the 90s seems to be on everyone's mind. Maybe it's the fact that we've just entered 2020, which means that the 90s began literally 30 years ago. Maybe people are just getting sentimental with the passing of each year. Whatever the reason, it seems that if people aren't talking about that decade lately, they're watching shows from it or listening to its music.
Our '10 Things' article today covers an actor who has made something of a comeback after experiencing a burst of fame from a 90s show he was in. The show was a prime-time twenty-something soap/drama called 'Melrose Place', and it followed the lives of its young, fortunate characters as they struggled with their jobs, love lives, and other scandalous situations. Grant Show gained stardom playing the part of Jake from 1992 to 1997, and while he did some other projects after his role ended, the same level of fame never quite reached him again.
Until lately, that is. Show's comeback, while probably not as known as before, is based on the fact that he has been reprising the role of Blake Carrington on the television reboot of 'Dynasty'. The original program ran from '81 to '89, and its storyline covered a number of issues, some which were not easily discussed at the time; this fact helped the 'Dallas' competitor do pretty well in the ratings, which was why ABC created it to begin with. Today, the new 'Dynasty features Show as the rich patriarch of the Carrington family. John Forsythe had played Blake Carrington years ago, so he had some pretty big shoes to fill; it seems he isn't doing to poor of a job.
In an effort to familiarize the younger set with Grant Show, we have put together a '10 Things' list just for him. Since this is his second shooting star there are plenty of fans out there who know little about his life and career. This is the perfect opportunity also to reboot the fandom of those who may not know he is back in the saddle, or if they do know, needed a simple refresher course. So, for your entertainment, here are some personal and professional facts that are mostly unknown about Grant Show.
Here are 10Â  Things You Didn't Know About Grant Show
1. Early Life and Education
Show was born Grant Alan Show in Detroit, Michigan on February 27, 1962; he is 57-years-old. His parents, Ed and Kathleen, also had a daughter named Kelly. Grant and Kelly grew up in Milpitas, California, where Show attended and graduated from school. He subsequently attended the University of California at Los Angeles (UCLA). During his college years Grant became a member of the Alpha Tau Omega fraternity, which he was in for the duration of his time in college.
2. Career Path
Grant first got his foot in the entertainment door while attending UCLA. His first role was on daytime television; he starred on the soap opera 'Ryan's Hope' in the role of Rick Hyde for three years, from 1994 to 1997. In 1997 he earned an Emmy award for 'Outstanding Young Actor in a Daytime Drama Series'. He went to London afterward to tune up his acting skills, and when he returned to the states he began taking parts on prime time television dramas, which managed to garner the attention of producer Aaron Spelling. In turn, Spelling cast him as Jake Hanson on in several episodes of 'Beverly Hills, 90210′ with the plan of continuing the character on the spinoff 'Melrose Place'. His regular role on the latter series made Show one of the most well-known and most popular television actors of the decade.
Show has also appeared on Saturday Night Live, as well as a number of made-for-television movies, including 'Blessed Assurance', 'Between Love and Honor', and 'Homeland Security'. He had a lead role in the television drama 'Point Pleasant' until it was cancelled, and was also in three episodes of 'Six Feet Under' on HBO. These were followed up with appearances on a couple of episodes of 'Beautiful People' (2006), a 2007 appearance in 'Dirt', 'Swingtown' in 2008, and he had a recurring role in 'Private Practice'. More recently, Show appeared in 'Accidentally on Purpose' with Jenna Elfman, which was his very first situation comedy role. Other shows include 'On the Waterfront', 'Big Love', and 'The Glass Menagerie'. His Broadway experience includes 'Wit' from 2012, and film work includes 'The Possession'. Grant got a role in 2013 starring in 'Devious Maids' as Spence Westmore before finally landing his role as Blake Carrington on the new 'Dynasty' in 2017. Besides what is listed here, Show has appeared in many other television shows and movies.
3. Personal Life
In the past Show has dated several actresses, including Laura Leigton and Yasmine Bleeth. In 2004 he tried his hand at marriage with actress/model Pollyanna McIntosh, but the couple divorced seven years later. In 2012 he and Katherine LaNasa became engaged to wed, and they married one month after deciding to tie the knot. The couple have a daughter named Eloise McCue Show who was born in March of 2014. The pair are still married as of this writing.
4. Zodiac Facts
Born on February 27th makes Grant a Pisces. Pisces men are said to be very creative. They also have great insight when it comes to both situations and other people, and because of this they are often aware of circumstances and occurrences that others don't pick up on. They tend to be very caring as well, which is likely attributed to the fact that they can be emotional. Pisces men and women both possess a very empathetic nature; because of this they tend to have mood changes often, as their moods may depend much on the mood of those around them. He was also born in 1962, which is the Year of the Tiger on the Chinese zodiac. Tiger children are typically very competitive, and are born with strong leadership abilities. They don't shy away from confrontation, but face things head-on. A tendency to live life on the edge seems to get them into trouble more than they might like. These traits, when combined with his Pisces traits, lead us to believe that Grant is likely a very interesting person, and it would be fun to know him personally on a social basis.
5. Teleporting on Television?
As we mentioned earlier, Grant starred as Jake Hanson on several episodes of 'Beverly Hills, 90210′ before continuing the role regularly on 'Melrose Place'. But Jake was someone that seemed to spread himself out on television, making him something of a prime time gigolo. Show also appeared as Jake on the series 'Models, Inc.' It makes one wonder if his character was restless, or simply bored.
6. Extra-Curriculars
Just like all of us, Grant has interests that fall outside of the realm of his professional life. For one, he enjoys playing golf very much in his spare time, and he enjoys driving. We know this because of the fact that in 1996 he raced in the 20th Anniversary Toyota Pro Celebrity Race. He must have been pretty darn good at it, because he manage to win the race that year. He also enjoys spending time with his family when he isn't busy working.
7. Social Media
While one might be led to believe that an actor in his fifties might not be big on social media use, they would have to admit that we live in such a technologically-focused age that almost everyone participates in it. Such is the case with Grant. On Instagram he can be found under @grant_show, where he has nearly 125k followers. On Twitter fans can locate him at @GrantNoShow, and on Facebook his official page is easily found under 'Grant Show'.
8. Associated and Related
For those who are familiar with actor Henry Lee Hopper (son of actor Dennis Hopper), here is a bit of Grant Show trivia information for you. Grant happens to be Henry's stepfather (being married to his mother). This puts him on a long list of celebs who are associated with Hopper by relation, including actor French Stewart (ex-stepfather), Tiffany L. Hopper (cousin), and two more half-brothers and a sister. That's not to mention little sister Eloise, of course.
9. To Quote Grant Show…
"If you want to be with someone who is fifteen or twenty years younger, that's fine. But I've found that if you haven't been knocked down a little bit, then you're probably not going to be hanging out with me too much."
10. Future Plans
For now, it's a bit hard to tell what tomorrow holds for the actor. His focus at the current time is his family and his role on 'Dynasty', which is doing well. While he may make appearances briefly in other shows or movies, Grant will likely keep things slow and steady, if you can do that in his business. Regardless, we're sure that he'll be easy to keep up with, being in the limelight like he is.
Well, Grant Show has certainly been around the Hollywood block. With countless appearances on television and in films, he has managed to form a pretty solid professional foundation for himself, and not a moment too soon, considering he became a father for the first time only a small handful of years ago. We hope his success continues, and that he and his family are able to enjoy their lives together happily for years to come. Check out Grant on 'Dynasty', if you haven't already, or maybe you could binge some classic 'Melrose Place'. This great looking man is easy to become of fan of.