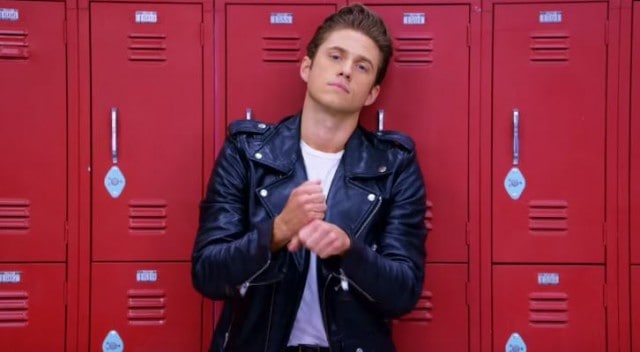 A few days after the release of the first-look photos of FOX's upcoming production Grease: Live, the network  has treated audiences to a glimpse of the much hyped musical. In other words, the first promo is here and it looks exactly like we hoped for, and then some.
Given what can only be worded as perfect casting, the abundance of talent (both on stage and behind-the-scenes as well), and fantastic art design, Grease: Live, which will air on FOX this January, is looking like it's going to kick off 2016 in the best of ways. Moreover, the live broadcast, could be exactly what viewers need, considering how erratic the fall season has been.
The original Grease (score and book by Jim Jacobs and Warren Casey) follows the blossoming love among a group of teenagers during the soda shop culture of the 1950s. It premiered on Broadway in 1972 and has had two revivals. Additionally, the 1978 film adaptation starred John Travolta, Olivia Newton-John, and Stockard Channing, among others. Grease: Live, the adaptation of the original, is developed by Robert Cary and Jonathan Tolins and executive produced by the talented Marc Platt, while the stage direction will be the job of Thomas Kail. Alex Rudzinski will serve as the live television director.
Grease: Live stars Julianne Hough (Dancing With the Stars, Rock of Ages) as Sandy, Aaron Tveit (Graceland, Les Miserables) as Danny, Vanessa Hudgens (Spring Breakers, High School Musical) as Rizzo, Carlos PenaVega (Spare Parts, Big Time Rush) as Kenickie, Keke Palmer (Scream Queens, Masters of Sex) as Marty, Carly Rae Jepsen as Frenchy, Kether Donohue (You're the Worst) as Jan, and David Del Rio (Spare Parts, The Troop) as Putzie. It's set to air Sunday, Jan. 31, 2016, at 7 p.m. on FOX.
 Check out the first promo from Grease: Live below, along with the network's full description of the musical event:
Grease: Live will reintroduce and reimagine some of the show's most memorable moments, great music and timeless love story to an entirely new generation. In this live television adaptation of the musical classic, the beginning of senior year means the end of Danny and Sandy's summer romance — until Sandy unexpectedly transfers to Danny's high school. With their friends pulling them in different directions, it's up to Danny and Sandy to stay hopelessly devoted as they make their way from Rydell High to a new frontier.
[Photo via YouTube]