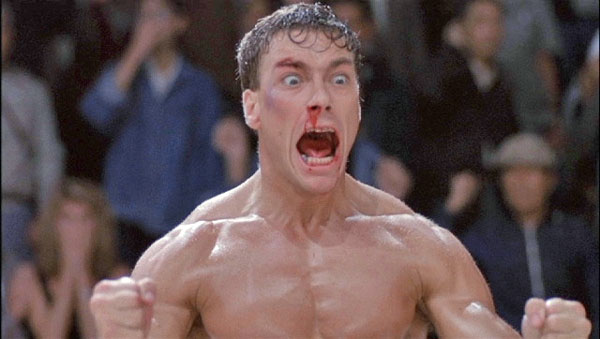 In what could only be described as an Oscar-winning caliber song and Oscar worthy acting performance, the movie Bloodsport gets my pick for our latest "Great uses of songs in movies" segment.  As we all know, Bloodsport is clearly one of the best martial arts movies of all-time.  Between that and Kickboxer, Jean Claude Van Damme solidified himself as "the man" when it came to action movies spearheaded by martial artists in the 80s.
While he wasn't quite at the level of a Sylvester Stallone or Arnold Schwarzenegger, you'd be hard pressed to find a more impressive portfolio of action movies between the years 1984-1995 than Van Damme's.  But let's get back to Bloodsport.
In a rare moment of vulnerability we see Van Damme walking the streets of Hong Kong in search of some kind of answer to all that is plaguing him.  He even thinks he sees his villain "Chong Li" on a public bus.  The beautifully eloquent soul searching scene is highlighted by the ballad "On My Own" by Stan Bush.
It's one of the greatest uses of a song in a movie of all-time.  Check it out below: