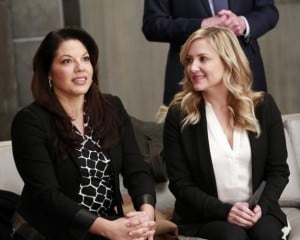 Plans to save Seattle Grace are still a go in tonight's episode of Grey's Anatomy. We've seen the doctors save the hospital week after week, but will they be able to save it from falling apart all together? It looks to me like Derek, Meredith, Callie, Arizona and Christina have some serious negotiations ahead of them if they want any chance to go through with their plan and buy the hospital.
Minor Spoilers Ahead.
Seattle Grace has had its share of bumps along the road to being saved from financial ruin, but Chief of Surgery Owen Hunt has felt all of the pressure falling upon his shoulders. It's been clear for the last few episodes that Dr. Hunt has tried to do the best thing for the hospital and his position with his friends has been complicated. Not to mention that they all decided to walk out on the hospital; including Christina. We all know that they are doing it all in hopes of saving the hospital that they worked so hard to build, but Owen will not find this act to be heroic. In fact, it seems like Dr. Hunt will be furious and feel betrayed by the woman he loves–and with reason.
Christina doesn't seem to be convinced that Owen will forgive her once he finds out their plans despite Meredith's assurance that he will. And, let's be honest, she's right to be afraid of Owen's reaction–she loves him and she knows that they just betrayed him. And from the looks of the promo, Owen is definitely not happy. Meanwhile, Derek, Meredith, Callie, Arizona and Christina will be meeting with an investor in order to go ahead with their plan to buy the hospital. But it looks like they will have to pitch their idea rapidly, as Cahill seeks to make the final sale.
Being aware of the situation the hospital finds itself in, Bailey is all suited up and ready to go to a job interview, but Owen begs her to stay. With most of the surgeons already gone, he can't afford to lose yet another one; he seems to convince her by telling Bailey that she is the 'heart and soul' of Seattle Grace. However, it wouldn't be the Miranda Bailey we know if she didn't threaten Owen with a fist to the face, but knowing her stature, she'll be aiming at his lower region, if you know what I mean.
Meanwhile, in light of the situation at the hospital, Catherine encourages Jackson to move to Boston and Alex impresses Jo while caring for a patient.
What do you think? Will the doctors save Seattle Grace from sinking? And how long will Owen stay in the dark about the plan? Will he forgive Christina?
Take a look at the promo below and don't forget to watch tonight's Grey's Anatomy episode "This Is Why We Fight" at 9 p.m. ET/PT on ABC.  You can also watch sneak peeks for the episode here.
http://youtu.be/kSpyNYpyGfM