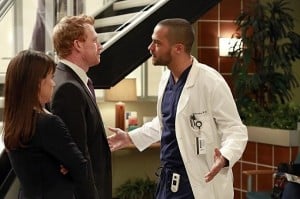 It's all about the secrets this week on Grey's Anatomy as the doctors continue to thwart Dr. Cahill's attempts to sell the hospital. In further attempts to modernize (and dehumanize) the hospital, Cahill brings in potential buyer Pegasus (Yes, as in the horse), a company infamous for their machine-driven medicine and robotic Stepford-esque practices. Dr. Cahill schmoozes while a couple of PR photographers shadow Karev and Avery, snapping pictures around every corner to determine who will become the hospital spokesperson. And yes, by spokesperson I am calling to mind bright, shiny posters reminiscent of Crest toothpaste ads.
While on a ride-along date with a cute, infatuated paramedic, Kepner gets herself in a bind when they stumble upon a man in dire need of an ER. But with the closing of Seattle Grace's ER, the closest hospital is an hour away. In a move that will either save or end his life, Kepner enlists the help of the other doctors to break hospital protocol and save the man's life.
Callie and Webber join forces for a little undercover work in a nearby Pegasus-run hospital. Distraught over the thought of losing their hospital to Big Business, the unlikely pairing act as husband and wife to slip inside the Emergency Room to get a feel for how things are run. Dissatisfied with their treatment, they pose as Pegasus employees and encourage the doctors to spill the beans. Unfortunately for them, their worries are confirmed.
Most of the staff is back at the hospital covertly working on the dire patient in the former ER with a makeshift room complete with portable lights. They race out just in time as Cahill flies in to showcase the would-be hernia lab to the big Pegasus boys. Well, until she finds fresh blood on the floor, that is. And then she's back on her warpath.
You at least gotta give the woman props. She ain't gonna take it lying down.
The C story of the episode picks up on this week's theme as well, featuring a transgendered man fresh out of high school, hiding his top surgery from his conservative, unsupportive father who's quick to blame his son's transgendered girlfriend. The story closes with an unsatisfying non-resolution resolution in which Dad sticks around to see if his son makes it out okay, but hightails it away, still unable to look him son in the eye with acceptance.
After Cahill stumbles upon the rogue doctors in the operating room, they're forced to go before Cahill and Hunt, who pluck them off one by one until someone spills the story. Undeterred and shameless, Karev and Avery confess, but are released from punishment thanks to a very exhausted, downtrodden Chief.
Callie drops a bombshell at the close of the episode after Webber loses the will to fight and decides to commit to an early retirement. Torres gathers the plane crash victims (nee Cristina, who's off in the on-call room with brooding Owen) and announces her brilliant plan, bright-eyed and beaming.
They're gonna buy the hospital.
Grade: B