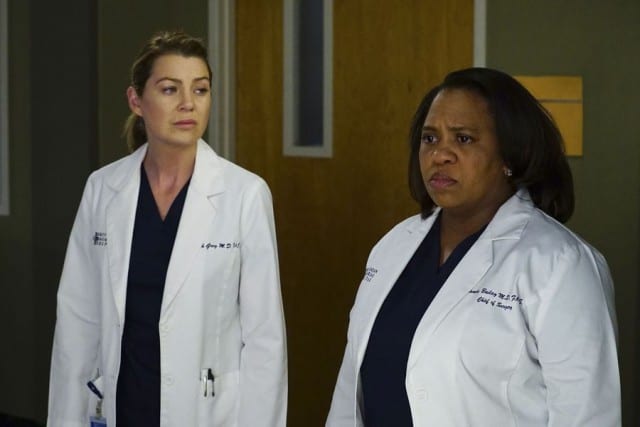 Grey's Anatomy has had many two hour events, but it's been awhile since there has been one that pitted husband and wife against each other. In this special two hour event, Bailey is forced to make a choice between being a loyal wife and a strong Chief of Surgery.
The hospital goes into lockdown in order to find a missing child. Now when a hospital issues a Code Pink, every single  door in the hospital is locked, not just the doors to the outside. Karev finds his patient within a matter of minutes hiding behind some stairs. Unfortunately in a hospital it can take seconds for a patient's condition to deteriorate, which is where Ben finds himself during the lockdown.
Ben is in the middle of transporting a pregnant patient named Gretchen McKay when the lockdown is issued. He is stuck between doors with Gretchen and DeLuca when her pressure bottoms out. Not knowing how long the lockdown would last, Ben makes a split second decision to perform an emergency C-section in the middle of the hallway. Seconds later Bailey shows up to find a barely breathing baby in her husband's arms and the mother bleeding profusely. Bailey's worst fear has come to pass. From this point forward she can no longer be a wife, she has to be the Chief of Surgery.
Bailey has to go through the sequence of events which put Gretchen in Ben's care. Apparently Ben was left to take Gretchen to a scan with DeLuca in tow since both Meredith and Arizona were called away. When Gretchen started feeling pain, they immediately started to make their way to OB when the Code Pink was called. Ben made a choice to take the baby out or risk losing them both. It sounds simple, but the problem is that Ben said it in a way which made it sound like he knew that with the kind of certainty of an attending.
The thing is Ben didn't make a call that any other seasoned doctor wouldn't have made. The real problem is that all of the attendings treat him as if he is already one of them. Why wouldn't they? He's married to the Chief of Surgery, he's older than the other residents, he worked as an anesthesiologist at Grey Sloan Memorial for years before entering the surgical program, and most of his friends are on the hospital board. Given all of that, it's easy to dismiss the fact that he is still learning.
Both the mother and the baby die. Bailey hopes that as Head of the Surgical Residency Program Webber can be in charge of disciplinary action, but he shoots that down immediately. This case falls directly under Bailey. Only she can decide if Ben made the right call which just turned out disastrously, or if he screwed up. All of the pieces and testimonies prove that Ben had to act quickly, all except one very important detail. There was security footage of the hallway, and it shows that the elevator opened before Ben made the first cut. He made the choice to cut.
Bailey can't be objective about disciplinary action against Ben, so she forms an Advisory Board to review all of the evidence and make a decision. Ben sees Owen, Meredith, and Maggie are the Advisory Board and starts to relax a bit. That is a mistake. In this room, these people are not his friends, they are the people who are going to decide whether or not he gets to practice medicine again. Ben and Bailey initially decide to treat this as a separation of church and state situation, but that doesn't last long. Bailey also has to deal with Gretchen's husband, who ends up on life support with limited brain activity. Now three children could be left without parents or a baby sibling.
We get a slight detour from Ben's dilemma in the second hour. Jackson and April are dealing with each other through their lawyers after April filed a restraining order. That order is almost impossible to enforce completely since April and Jackson work in such tight quarters together. So much has happened that they April can't turn to Jackson when she thinks something is wrong with the baby. It turns out April is just feeling her healthy baby move, an experience she didn't have with her son because of his medical condition. She and Jackson take a step towards peace in the end and are able to share feeling their baby kick.
Penny has to make a decision on whether or not to accept the Preminger Grant which would take her to New York for a year, away from Callie. Penny can't ask Callie to pick up her child and her life and move to New York. Callie can't ask Penny to give up this incredible opportunity. But after admitting how much they love each other, Callie decides that she can move to New York with Penny. The fact that Callie did not consider Arizona in her decision shocks Arizona. So at the end of the day it is not April starting a child custody battle, it is Arizona.
Owen, Maggie and Meredith review everything, re-interview everyone, but at the end of the day it comes down to the same question: why did Ben choose to cut when he didn't have to? The answer is that his mind just didn't register the doors opening. He reminds the doctors that when you hold a life in your hands, everything else falls away. The doctors decide that Ben isn't lying about his actions, but Bailey decides to suspend Ben from the residency program for six months. She made this call as the Chief and as a wife, because she can't yet forgive the mistake Ben made. The only reprieve Bailey gets is that the husband makes a miraculous recovery.
Do you think Ben and Bailey will be able to recover from this?
Grey's Anatomy Season 12 Episode 18/19 Review: "There's a Fine, Fine Line; It's Alright Ma (I'm Only Bleeding)"
Summary
Dr. Warren's split-second decision changed his life forever in tonight's Grey's Anatomy.