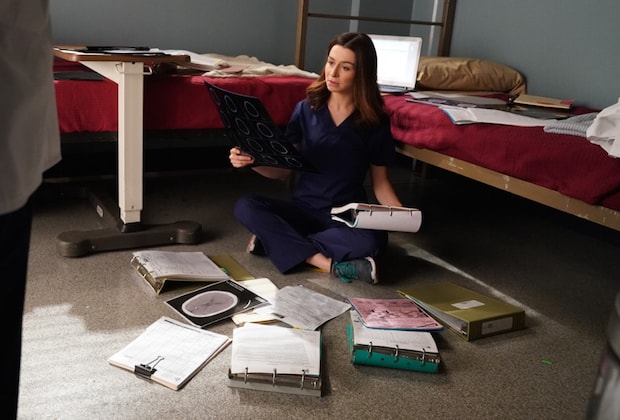 Season 14 of Grey's Anatomy is getting back to the fun, even in the most serious of circumstances. It is also bringing back one of the most important elements that made the first few seasons memorable (for better or worse): lack of maturity. When you handle life and death everyday, why shouldn't you find the inappropriate joy where you can? Case in point, can you guess who the most mature person on the canvas is? Zola Shepherd, and she is 8. She handles grumpy adults and a messy household like a pro.
At least other people know for sure what they want and are tired of being on the see-saw about it. Jo and Alex finally get back together, and that means living together as well. Arizona is getting back to a fun relationship with a doctor who doesn't make everyone angry; quite the opposite, actually. Megan Hunt literally has no room other people's drama when she is trying to recover from an experimental surgery so she can get back to her son. After some counsel from her psychiatrist, Meredith yells at Nathan for wasting the gift he has been given by not fighting for Megan. As much as April would like to still be an optimist, the best she can do now is push high school kids to believe in it for her.
We know Bailey is and always will be the Nazi, even if she retired the moniker. However, this week she went up against God. God, in this case, is Harper Avery. God also turned about to be the devil in a fancy suit who cared more about money than quality and safety in the hospital. The devil fires the Nazi, and then he drops dead. Coincidence? Perhaps divine intervention, since Jackson and Catherine don't seem too broke up about it.
The most horrifically ironic information that opened the season was Amelia's diagnosis. It's hard to tell if Amelia's behavior is related to the tumor or if it's because she is scared. Thank goodness the tumor is benign. She tells Maggie and Webber with relative ease, not to mention her surgeon and mentor, Dr. Koracick. He doesn't pull any punches with Amelia, and she needs that. Though she is concerned about telling Owen, what really scares her is telling Meredith. For all the family she has, in Seattle and all over the country, Amelia has always felt like she had to handle things alone. Webber helps her to realize that she cannot and should not do that, nor should she be scared that she has hurt people because her record is actually better than her brother's. The difficult part comes next. Surviving the surgery is its own problem. The questions that follow are scarier. How much of Amelia's thought processes were actually compromised by the tumor if it's been growing for a decade? Did it affect her control over her addiction? Did it cause her move from Los Angeles to Seattle? Worse yet, is it the reason she decided to marry Owen so quickly? Or did the tumor have nothing to do with her actions and she really did separate from her husband because she wanted to?
Let the theories pour in. Who will Amelia Shepherd be post-surgery, if she makes it that far?
Grey's Anatomy Season 14 Episode 3 Review: "Go Big Or Go Home"
Summary
Grey's Anatomy examines (with morbid irony) the soundness of one doctor's decision-making capabilities.