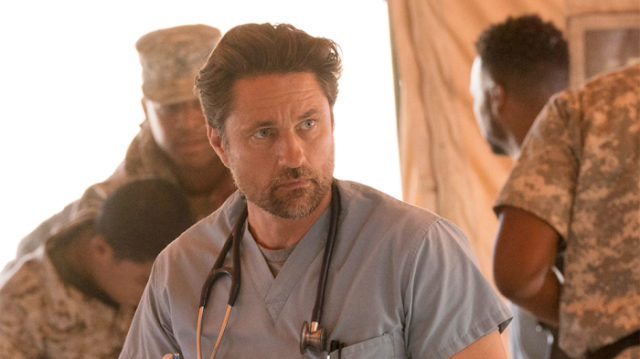 Many doctors have come and gone through the hospital doors on Grey's Anatomy. Some have left under ugly or unfinished circumstances, and some have gone on to new chapters. Yet there has only been one instance before that a doctor has truly moved on to the life they were meant to have. That has now changed with an episode squarely focused on the lives of Nathan Riggs, and Owen and Megan Hunt. By looking back at that fateful 24 hours in 2007 before Megan was lost to her brother and her fiancee, we can see just how drastic a shift happens in ten years. But not everyone gets to ride off into the sunset.
When Nathan Riggs first arrived in Seattle, our first impression of him was seeing stars. Here was a charming, considerate, innovative cardiothoracic surgeon gift-wrapped for Grey Sloan Memorial. That is, until we saw the look on Owen's face when he saw Nathan for the first time in seven years. As time went by we got the story on Owen's sister Megan, and how he couldn't forgive Nathan for cheating on her right before she was presumed dead. Flashing back to 2007 Iraq, we see the bigger picture. That while Nathan did cheat on Megan, she cheated on him as well. For the both of them it was a momentary lapse in judgment, not an effect of deeper insecurities. We also see that Megan disappeared because of a miscommunication in the field that put her in a chopper not with an innocent victim, but a hired gun who took her prisoner. It was devastating to watch Teddy try and fail to save Megan. What wasn't upsetting was seeing that, even back then, Teddy was all-knowing and all-seeing with that quick intuition of hers. Good for her calling out Owen on his borderline misogynistic, and 100% controlling, behavior towards Megan.
Fast-forward to the present. Not only is Megan alive and well, she has an adopted son, and is ready to start her life again with Nathan. The only problem is that Owen doesn't want to let her, and the reason goes much deeper than not wanting to let his sister out of his sight. It goes to the core of who Owen is. From the first day he showed up in Seattle having given a man the breath of life with a pen, Owen's loyalty has revolved around everyone else. Megan points out the harsh truth that Owen has been married to the picture in his head of a happy future, a picture which no longer exists. It's the reason Owen was engaged to someone supremely unsuitable for him when Megan went missing. It's the reason he tried to push both Cristina and Amelia into having children. It's the reason he won't let go of Amelia even though he now knows that they never should have gotten married in the first place. Owen and Amelia know that splitting up is the right thing to do.
Just as Nathan and Megan are 100% sure of their new life together in California. It's not about a fresh start, or running away, or trying to challenge themselves in a new environment. It's about building the life they are meant to have with each other and with Faruq. This is the life they thought was stolen from them, but now they can have it back. What's more, they can appreciate the journey that brought them here. Nathan can be grateful for Meredith's role in his life, because she knows what it meant for him to get Megan back. Megan was Nathan's Derek-the one irreplaceable love of his life. If Derek has come back from the dead, Meredith would have drop-kicked Nathan in two seconds flat. Nathan needs to be with Megan, and not be okay with having every part of the plan figured out. They are happy, but more than that, everyone is finally at peace.
Did Nathan Riggs deserve his send-off into the sunset, or did he have more story to give? Was it the right call for Owen to choose the opposite route?
Grey's Anatomy Season 14 Episode 5 Review: "Danger Zone"
Summary
Grey's Anatomy bids a fond goodbye to a series regular who is one of the lucky few to get a happy ending.