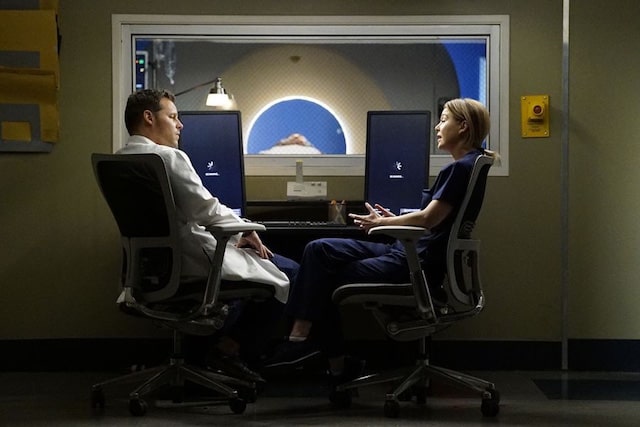 Grey's Anatomy was built on two concepts-relationships and medicine. Twelve seasons of success have shown just how well this has worked. Medicine changes, relationships evolve, and doctors adjust their lives accordingly. That being said, I can't recall the last time there were so many relationship turns right after another.
Ben and Bailey are so incredibly stubborn. Both of them expect the other to cave and apologize. They act grumpy with each other, but they know they'll work it out. If anything their relationship woes are the bright spot in an otherwise jolting episode.
Amelia and Owen seem to have gone from zero to 100 in a matter of weeks. Owen is so serious he sells the trailer and buys a house. Hypothetical scenarios of marriage and kids suddenly become very real by the mere fact that they were brought up so fast. The trailer stings a bit for Meredith since the trailer was originally Derek's, almost like saying goodbye to the last bit of Derek. The trailer is actually one part of a much larger problem Meredith has with Amelia. Meredith walks around the hospital in a huff and finally tells Amelia to stop taking over every aspect of her and Derek's life. (I'm going to save my outraged and indignant reaction for Twitter where it belongs). Maybe Amelia has slipped into her brother's old life, but so what? She's also trying to live her own. Amelia has been through her fair share of trauma, and if losing her brother taught her anything it's that she should grab happiness where she can. So she revs up the gas and asks Owen to marry her.
After losing custody of Sofia, Callie is stone-faced. She puts the blame on Penny for everything that's happened, and breaks up with her because long distance won't work. Arizona wants to be civil, but since Callie put her through hell, she can't help but smile a little. Arizona is fully in control of Sofia's schedule now. Callie has to ask Arizona for time with their daughter. You can't help but feel for Callie's pain at this, but Arizona reminds us that Callie is the one who initiated this horrible situation in the first place. Callie needs to take full responsibility for that.
Stephanie can't stay away from Kyle now that he's back in the hospital. He kicks her out of his room, Amelia kicks her out of his room, and his family kicks her out of his room. Still, desperate for information she turns to Jo for help and learns that Amelia will undergo a dangerous procedure on Kyle. Eventually she breaks him down. They reunite right before he has to go into surgery, fantasizing about Stephanie following Kyle on tour. It will never be though, because Kyle dies in surgery as Stephanie watches from the gallery with tears in her eyes.
Alex and Jo both watch their friends in pain today and it pushes them to confront the elephant in the room they've been avoiding for months. Alex can no longer wait for Jo to make up her mind. He wants an answer to his proposal, to which she says no.
Riggs and Maggie have slowly been getting closer. They actually have a really great friendship going. Which is why it's so stunning when after an angry confrontation Riggs hooks up with Meredith. Yeah, I see it but I don't believe it.
Is it any wonder that after all of these topsy-turvy revelations, is it any wonder that Catherine Avery running back into her husband's arms is the best sight of the whole episode?
So many revelations, what will happen next week? Will Amelia and Owen go through with the wedding? Will Bailey and Ben finally forgive each other? Will Riggs be Meredith's new beau?
Grey's Anatomy Season 12 Episode 23 Review: "At Last"
Summary
This week's Grey's Anatomy one shocking relationship shift after another.