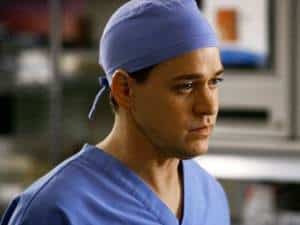 Entertainment Weekly's scoopmeister Michael Ausiello has confirmed through his super secret sources that T.R.Knight is officially off the show. Apparently, Knight was not pleased with the direction of his character and will now begin shopping himself around as an action star, or romantic leading man. Okay, I made that part up… but come on, T.R., seems to me like they were writing to your strengths! Why do you figure George was one of the most popular characters on Greys? Did Katherine Heigl infect your mind? What's next? Here's Ausiello's words of wisdom:
Fall's still months away, but one of last season's bigger Grey's Anatomy cliffhangers has already been resolved: Sources confirm to me exclusively that T.R. Knight's wish to be released from his contract has been granted. The official decision, I'm told, came down in the past few days, just as many of his castmates began receiving their formal pickup letters from ABC.
And speaking of what is next, Ausiello has that information in his full report here.