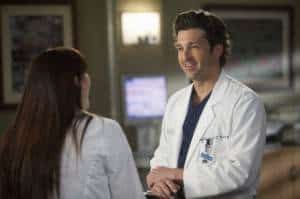 Grey's Anatomy returns from a short hiatus this week with an all new episode. While Meredith, Derek and Zola are driving through Seattle, discussing the new renovations, they're shocked to see a lion walking the streets. It turns out that one got loose and it's going to wreak some havoc, landing a couple in the hospital.
There's also some relationship drama to be found within the walls of Seattle Grace when Lexie overhears Mark discussing the possibility of moving in with Julia. Teddy is also trying to come to terms with Henry's recent death and uses this episode as an opportunity to take some steps to heal from the tragedy. Callie succumbs to some jealousy and interrogates Arizona about her past sexual relationships.
Meanwhile, Alez realizes that she's becoming far too dependent on Morgan, so she requests to be removed from his preemie case at the hospital. Finally, the tension between Cristina and Owen reaches its peak and Meredith steps in and tries to be supportive for Cristina.
Watch four sneak peeks below for the April 5 all new episode of Grey's Anatomy, airing at 9:00 p.m. ET/PT on ABC.