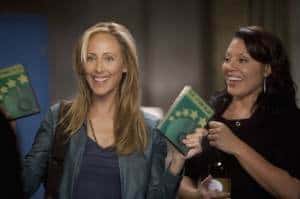 Grey's Anatomy is all new next week. In the episode, titled "Support System", Mark (Eric Dane) will be taking the lead role of chief, although only for one day. Dr. Sloan will be butting heads with Richard (James Pickens, Jr.) over a patient's liver transplant.
While Mark's taking care of things over at Seattle Grace, Owen (Kevin McKidd) finds himself having to confront Christina (Sandra Oh) about his affair after she demands the truth about what he did. Callie (Sarah Ramirez) deems Meredith (Ellen Pompeo) ready for the boards, while the rest of the residents continue to stress about the exam.
And we all know Teddy (Kim Raver) has been having a hard time after her husband's death. Thankfully, Callie, Arizona (Jessica Capshaw), and Bailey (Chanda Wilson) have planned a girls' night in this episode. After all she's been through, a night with the girls might be just what she needs.
Watch four sneak peeks below for the April 12 episode of Grey's Anatomy, airing at 10:00 p.m. ET on ABC.