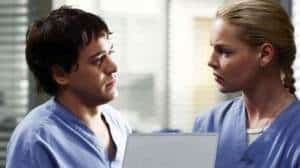 Okay, if you are Shonda Rhimes odds are that you are hoping the answer is both. Grey's Anatomy founders T.R. Knight and Katherine Heigl have both made a tremendous amount of grief for their meal-ticket. Heigl was famously critical of the writing for the hit show, and Knight has seethed over his character's direction for some time. Now word has come out that relations between one of them and showrunner Rhimes have deteriorated to the point of a complete professional breakdown. Forget being written off, this actor won't be there when Grey's Anatomy resumes filming this summer. Click forward to find out who it is.
According to E!Online's Mac Malkin, T.R. Knight's request to be let go has been honored. Apparently Knight was upset by his character's lack of screentime and storylines. Similar rumors bubbled up during Grey's second season when it was rumored that Knight was looking to be taken seriously as a romantic lead. After a pretty ineffectual pairing with – coincidentally – Heigl's Izzie, Knight's George became a bit of a wall-flower. Wall-flowers have bills to pay, though, right?
For her part, Heigl had withdrawn herself from Emmy consideration publically – before she was even nominated – citing the quality of Grey's Anatomy's writing, or lack thereof. A season later her character has cancer, and the cliff hanger season finale of Grey's Anatomy left her survival up in the air. She is either saved, or dead. Malkin reports Heigl is still waiting to hear her fate, but it is interesting to note that Heigl will submit herself for Emmy consideration. Heigl was recently dumped from the big screen pic Valentine's Day for her salary demands.