When the show did try to bring levity through its dialogue, it felt a little too on-the-nose. That goes back to the whole "what tone is this supposed to be?" because if we're looking at Grimm as a procedural with supernatural elements, lines about "I already cried wolf once" and "This is not a fairy tale" are way too wink wink, nudge nudge. There's being knowingly playful with your audience and having them be in on the joke, and then there's trying to be clever and having it fall extremely flat. The show's got enough of a personality on its own to not necessarily need campy writing, at least this early on, so piling that on top of the lavish style of the show makes the procedural element (notably, anything relating to the police station) go from slightly awkward grounding of the supernatural aspects to being extremely out of place and ill-fitting. Even if Grimm is supposed to primarily be a supernatural show, it still felt like a little too much for a pilot episode. Once we know the rhythms of the show and the humor of the show, maybe throw in a few joke-y, self-aware lines/episodes, but for now, it needs to focus on establishing itself.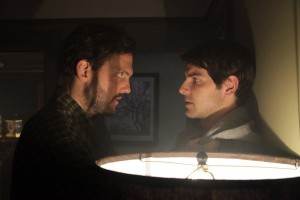 Grimm's main theme seems to be not in the procedural, not in the science fiction, but in exposing and trying to understand the duality of others. Most of the characters we spend time with in Grimm have two identities (librarian/creature hunter, accountant/creature, postman/wolf, etc.) and the central conflict in the main character's life is how to accept both sides of himself even though he may not want to. It may be dressed up in procedural clothing or supernatural garb, but this is a theme that's been present in media for years and years and it looks like Grimm is the latest to tackle such an everlasting conflict in storytelling. The pilot episode may not have been perfect, but there are enough hanging chads (Nick's necklace, the emergence of a possible big bad) and impressive choices (the "lived in story book" visuals) to make me believe that the best is yet to come and there may be a happily ever after after all for Nick Burkhardt.
Thoughts, Quotes, & Observations:
If I were to grade the pilot episode of Grimm, I'd give it somewhere around a B/B-. I enjoyed it all three times I watched it and I think that it has a lot of good stuff going for it, but there's a lot of room for it to get better.
"Why can't you just look at her ass like the rest of us?"
"But the bobcat wasn't wearing boots."
"Don't let the comb over fool you. This was a bad guy."
"As you can see, I am not that big and I'm done with the bad thing."
"Did I not just tell you about my regiment?"
Am I the only one that felt like this was more of a Syfy show than an NBC show?
The iPhone product placement made me laugh.
The blonde girl, who may be the show's big bad, is apparently a Hexenbeast, according to Marie's book in her trailer.
I thought it was nifty that not only did Sylvie and Robin have red in common, but they had pink in common, as well, with Sylvie's shoes and Robin's backpack. Maybe wolves are attracted to/alarmed by any shade of red?
Monroe's line about "profiling" gave me an instant flashback to True Blood's homosexuality/vampire allusion, for some reason.
Marie is the most bad ass librarian in the history of the Dewey Decimal System, considering all of her knife wounds and weapon collection.
The fight scene between Holda, Marie, and Nick was pretty decent. It was a little dark, lighting-wise, but there's potential there for the show to excel.
I appreciated the use of music in the show, as a Eurythmics song opened the episode, punctuated it, and was arguably the reason the case was solved in the first place. Bonus points for using the Marilyn Manson version, too.
The sky at the end of the episode was almost comic book-y, no?
Next week: Hank and Nick investigate a home invasion, while Monroe is tasked with looking after Marie.